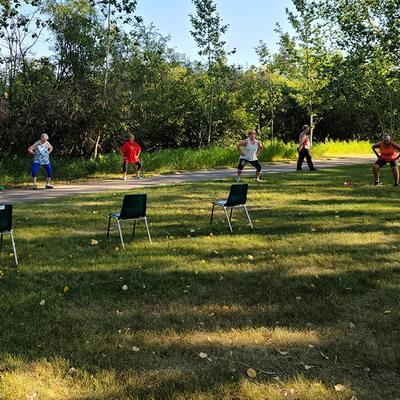 Community Guide & Program Registration
Get ready to stay active and prioritize your wellness! Explore our upcoming programs and learn how to register below. We've got all the information you need to embark on a journey of health and happiness. Don't miss out on this fantastic opportunity to take care of yourself. Get started today!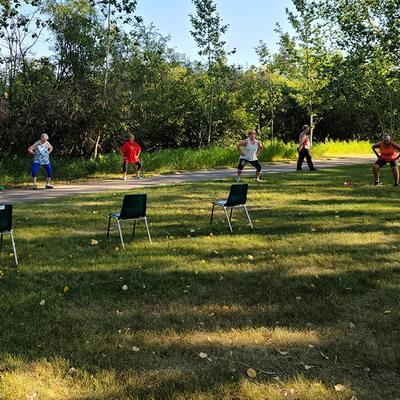 Community Guides
Community Guides are updated each season with familiar and new programming.

Community Programming
The Town of High River offers many programs for all ages, young and young at heart. Children will thrive in a nurturing environment with our qualified instructors, and you will see them build their confidence, self-esteem and creativity.
Our wide array of programs ensures that adults remain actively engaged and energized. We offer a range of activities focused on promoting physical fitness, expanding knowledge, and nurturing mental well-being. We recognize that mind and body work together, so we try to provide a little of something for everyone.
How to Register
Register online using ActiveNet
Register by phone: 403-652-4042
Register in person by visiting our Customer Service Representatives at the Bob Snodgrass Recreation Complex.
Bob Snodgrass Recreation Centre Customer Service Desk Hours: Monday - Sunday, 7 am - 10 pm.
Read the complete waiver and assumption of risk information carefully before using facilities or participating in programs.
Missed Classes
If a participant is unable to attend a class, no make-up class(es) or credit will be offered.
If the Town of High River cancels a class, participants will receive a refund in the amount of the individual missed class or a credit to their account.
Transfers
Transfer requests from one program to another are permitted if the program has availability. If a transfer results in a difference in fees, arrangements will be made at the time of transfer.
Withdrawals & Refunds
Registration is an important part of our program delivery as our programs operate depending on minimum registration(s). Please provide as much notice for any changes to your registration with respect to other participants, as low registration sometimes results in the cancellation of programs.
Withdrawal requests will be accepted up to 14 days before a registered program starts with no processing fee. Anything between 1 – 14 days prior to the start of a program is less than a $20 administration fee; all programs over $175 are subject to a $50 withdrawal fee per program. No refunds will be provided if it is less than 24 hours notice.
We appreciate that sometimes unexpected events come up requiring the withdrawal of a registered program. We ask that you provide as much notice as possible prior to the start time of the program in these circumstances for accommodation. Contact 403-652-4042 (press 6).
If the Town of High River cancels a program, participants will be fully refunded or may apply a credit to future programs.
Fee Assistance
Community Access Program (CAP)
The Town of High River offers a Community Access Program that will provide discounts on many Town programs, activities and support services to residents that meet specified household income requirements.
We're here to help.
For more information, contact FCSS at 403-652-8620
Canadian Tire Jumpstart: High River Chapter
The program is geared towards helping children aged 4-17 years old participate in organized sports and recreation by covering the costs of registration, equipment and/or transportation fees.

For more information, call 403-603-3494
---
We're here to help, contact us!
228 - 12 Ave SE High River, Alberta
parksandrec@highriver.ca
403-652-4042
Facebook
Maps
Subscribe to the Town Crier!
COVID-19 Information
Report a Concern
Sign Up for Parks and Rec Newsletter
Frequently Requested and Environmental Bylaws
Sign Up for Play Parks and Rec Day Camp Updates!