Aquatics Facility
When it comes to swimming, we keep the the leisure swimmer in mind! We supply lifejackets, baby floaties, toys, mats and much more. Here is what you'll find in the Aquatics Facility.

For safety reasons, face-mask goggles are no longer permitted for use in the Aquatics Centre at the BSRC. Residents are encouraged to bring standard swim goggles, or can purchase goggles and nose plugs at the BSRC pro-shop.

Summer hours for the Aquatics Centre (starting May 1): Monday - Friday 6:00 a.m. to 10:00 p.m. and weekends 9:00 a.m. to 5:00 p.m.
The Aquatics Centre features a 6 lane 25m pool with a 1m diving board, Tarzan rope, tot slide, hot tub and a cedar sauna (no steam).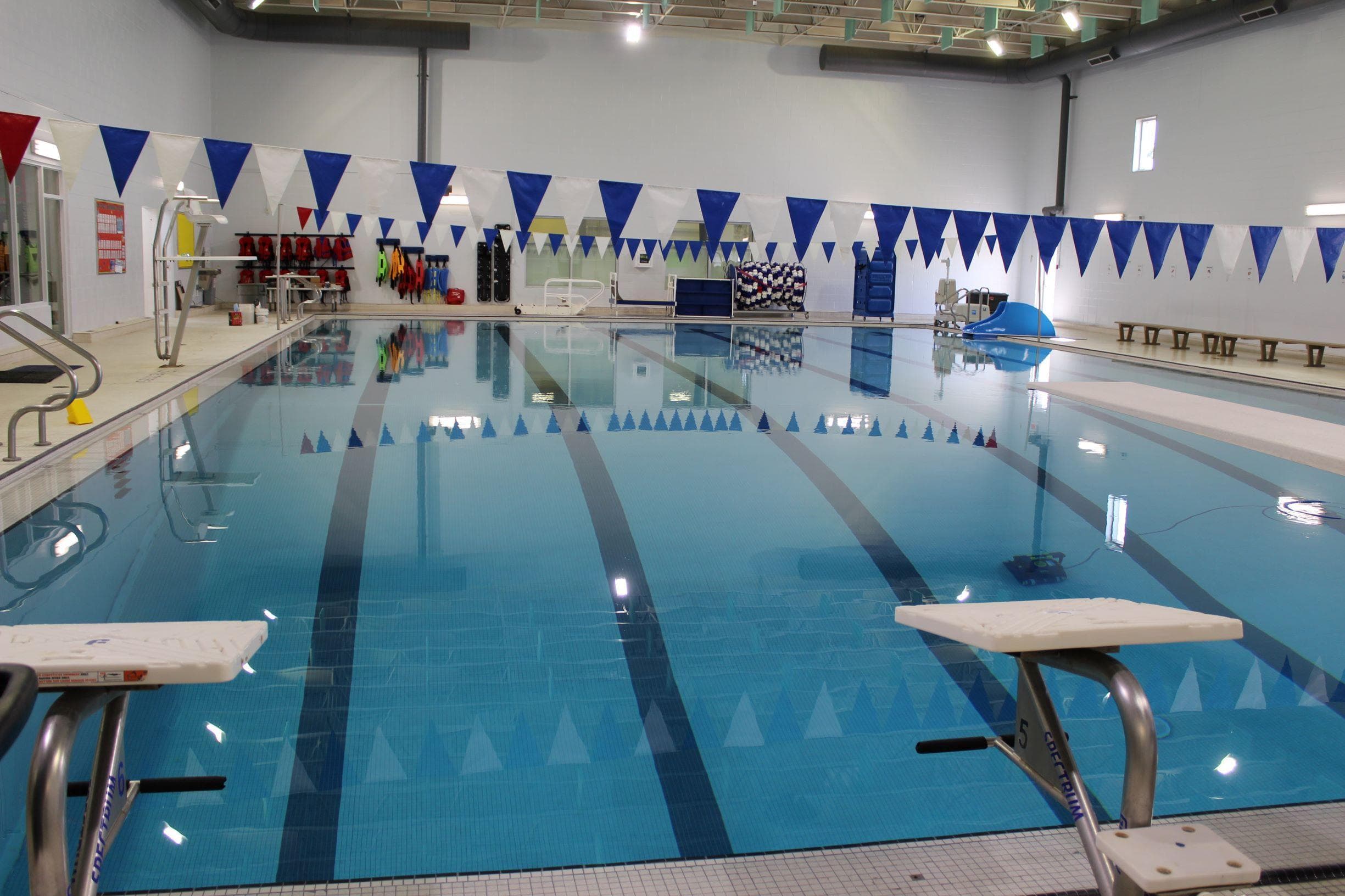 6-lane, 25m pool
Diving board
Swing rope
Tot slide
Hot tub
Dry sauna
Men & Women's change room
PAL accessibility lift
Types of Swims
Lane Swim
The pool is setup for lap swimming – a variety of equipment is available for use
Public Swim
The pool is divided by a buoy line (shallow/deep) and all amenities are open for use
The pool is not open to the public during private rentals (swim team practice, water polo, birthday parties, school groups, etc.)
Please bring lock with you! The facility change rooms do not have token/coin operated lockers
Swimming Lessons
These lessons are very popular! Be sure to check the Community Guide, then register to save your spot. Lessons are offered by qualified instructors. Swim Lesson programs for children aged 6 months to 15 years.
If you have any questions our staff can help you register in the right level, or we can set you up with a complimentary swim assessment. Our assessments are a 5-10 minute evaluation in the water with the child looking to be registered. The Instructor will check the swimmers skills and give you clear feedback on where to register your child.

Please check out our drop-in schedule for times and pool activities. High River - Recreation Facilities, Schedules and Memberships
---
We're here to help, contact us!
228 - 12 Ave SE High River, Alberta
parksandrec@highriver.ca
403-652-4042
Facebook
Maps
Subscribe to the Town Crier!
COVID-19 Information
Report a Concern
Sign Up for Parks and Rec Newsletter
Frequently Requested and Environmental Bylaws
Sign Up for Play Parks and Rec Day Camp Updates!