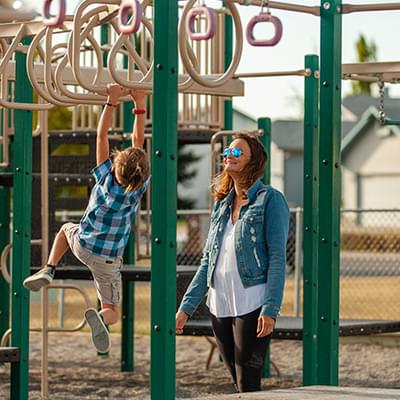 Outdoor Fun
We've got family fitness, skateboard & outdoor skating rinks and so much more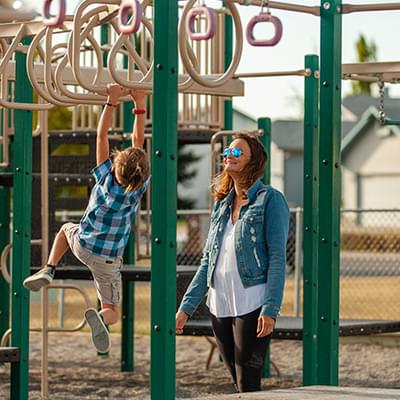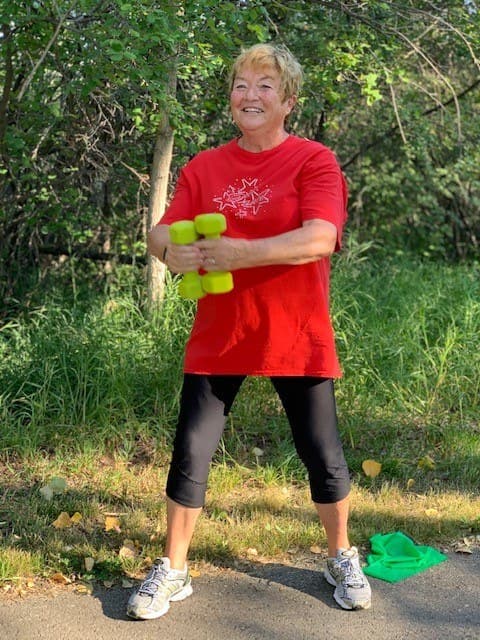 High River Outdoor Fitness Park
The High River outdoor fitness park is located at 251 9 Avenue S.W. and consists of nine exercise machines that use a person's own body weight to create resistance. The fitness equipment allows for a wide variety of flexibility, mobility, range-of-motion, cardio, and strengthening moves to provide a well rounded workout that is accessible to all ages, skill levels and body types. The machines are built from high-quality, durable materials and are weatherproof.
Each machine is equipped with easy to follow instructions that explain safe operation, as well as the health benefits. 
The Outdoor Fitness Park was a joint project from Cargill Foods, the Town of High River, High River 4C Coalition, the Calgary Rural Primary Care Network and Alberta Health Services.
We're here to help! For more information, please call 403-652-4042.
Outdoor Courts
This outdoor facility located in the Montrose neighborhood, provides 5 outdoor courts with an opportunity to enjoy the outdoors while playing a game of Tennis or Pickleball.
A drop in court is available for public use with admission and information provided at the Bob Snodgrass Recreation Complex.
Outdoor Skating Rinks
The High River outdoor skating rink is located at 820 Highwood Trail S.W., beside the southwest community gardens and historic Town Farm site.
The skating rink is maintained by the Town's operations department and offers seasonal outdoor skating opportunities. Due to fluctuating temperatures in the winter, including Chinooks, maintaining outdoor ice can be a challenge.
Crews need the daytime temperatures to remain around -12 for a minimum of one week to begin installation and maintenance of the ice rink.
High River Skateboard Park
Skateboarding is a popular activity for all ages! The High River skateboard park is located near the intersection of 1204 10 Street S.E. (across from Highwood High School).
High River's skateboard park is an unsupervised facility that is used at your own risk. Note the rules below.

By making use of this facility, you accept the inherent risks of personal injury, death, property damage or some other harm or loss, however caused.
It is your responsibility to use this facility to your skill level.
The use of protective gear such as helmets, wrist guards and elbow pads is recommended for your safety.
Please ensure all your equipment and protective gear is in proper working condition.
All children under the age of 10 must be accompanied by an adult.
Please keep the facility clean and free of debris for safety and enjoyment of all users.
Please respect the park, other park users and surrounding area and properties.
Motorized vehicles and unauthorized structures and ramps are PROHIBITED IN THIS FACILITY
Do not use the facility during or after bad weather. ie. Rain, thunderstorms, snow, high winds. Use of this facility during or after bad weather increases the risk of injury and property damage.
By making use of this facility you agree to waive all claims that you may have against the Town of High River, its officers, employees, elected officials, agents, contractors and insurers for any injury, property damage, financial loss or any other loss that may result directly or indirectly from your use of this facility, no matter how the loss is caused, including the negligence on the part of the Town of High River.
---
We're here to help, contact us!
228 - 12 Ave SE High River, Alberta
parksandrec@highriver.ca
403-652-4042
Facebook
Maps
Subscribe to the Town Crier!
COVID-19 Information
Report a Concern
Sign Up for Parks and Rec Newsletter
Frequently Requested and Environmental Bylaws
Sign Up for Play Parks and Rec Day Camp Updates!