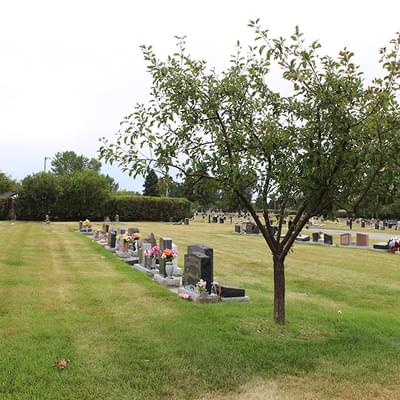 Cemetery Services
When it's time to make plans, we help guide you through the process. Learn about the Highwood Cemetery and services available.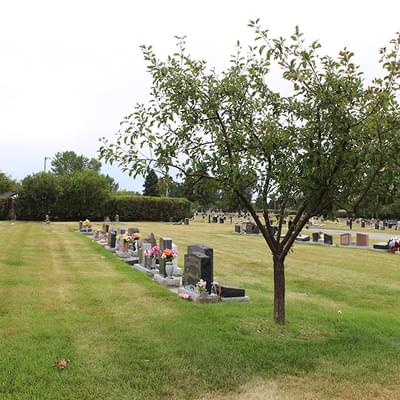 Our staff can help make arrangements to purchase plots in the new section of the cemetery.
We can also assist if you would prefer to purchase a niche for urns in the above-ground Columbarium.
Contact the Corporate Services Department with questions about rates and fees. Interments and disinterment (removal) must be pre-arranged with the Town of High River. A permit signed by the Department of Vital Statistics is required for full body removal only.
Only licensed service animals are allowed in the Cemetery (such as seeing-eye dogs, service dogs, therapy animals, etc.) To read the official statement and for more information please refer to Section 5 of the Revised Statues of Alberta 2000, Chapter B-3, Blind Persons' Rights Act.
Cemetery historical records may be viewed at the Town office or searched online.

Veteran's Section
The Veteran's Section is for the burial of service and ex-servicemen and women of the Armed Forces (and the service men and service women's spouses). Contact the Town of High River or the Last Post Fund for further information.
Memorial Trees
Trees can be purchased as a memorial and planted at several parks within High River. For details about the types of trees that can be ordered, locations and fees, contact the Parks & Recreation team.
The cemetery is located off of 5 Street SE across from Senator Riley School.
Spruce Columbarium
The new Spruce Columbarium, located in the Highwood Cemetery, is now selling available niches.
For more information on the Spruce Columbarium or to purchase a plot, please fill out the Highwood Cemetery Request Form or contact Finance at 403-652-2110.
---
We're here to help, contact us!
309B Macleod Trail S.W., High River, Alberta
Monday to Friday 8:30am - 4:30pm (Closed on statutory holidays)
corporateservices@highriver.ca
403-652-2110
Maps
Subscribe to the Town Crier!
COVID-19 Information
Frequently Requested Bylaws
Report a Concern
Highwood Cemetery location and more maps