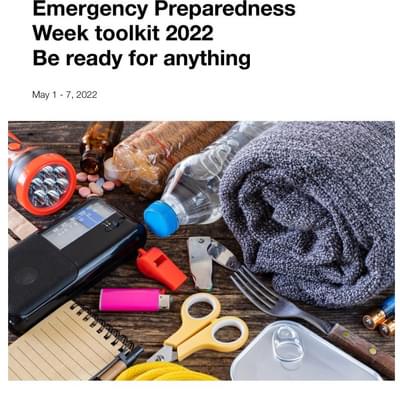 Emergency Preparedness
Having an emergency and communications plan will help family members and businesses know what to do during an emergency. Find tips to be prepared here.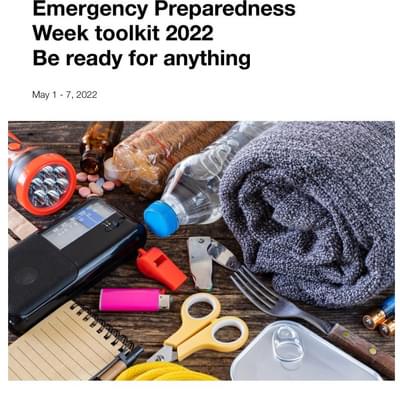 A family emergency and communications plan will help family members know what to do during an emergency if they are separated from each other. Planning ahead and communicating about emergency exits, safe meeting places and evacuation routes can help to ensure that families remain safe and can locate each other in an emergency.

For more information, read the Government of Alberta's Be Ready for Anything booklet.
Siren Testing
The Town tests its emergency notification systems at 12 Noon, on the first Wednesday of the following months: January, May and September. Follow us on social media for siren testing reminders!
Family, Home and Business Preparedness
Have a plan and make an emergency kit for yourself, your family, and/or your pets. It is best to be prepared a minimum of 72 hours. The following information helps you to prepare your family emergency kits for yourself, your family and your pets. There is information for businesses too:
Types of Emergencies and How to Respond
Good to Know - Emergency Tips and Information
What to do in case of an Emergency
In the event of an emergency, do the following:
LISTEN to the radio or TV and check media online websites and social media.
FOLLOW Town of High River social media channels and follow instructions.
MONITOR and FOLLOW Alberta Emergency Alerts.
SHUT OFF utilities if instructed to do so.
ENSURE your emergency kits are accessible, including medications.
LOCK up your home.
REGISTER at the Reception Centre - watch our social media channels to find out where to go, and check your local media news.
Follow the Town on social media and be sure to sign up for Emergency Alerts!
Emergency Numbers
Emergency Numbers
| | |
| --- | --- |
| Fire, Ambulance, Police, Hazardous Materials Spills | Call 9-1-1 |
| Water and Sewer/Utilities On-Call - Water & Sewer Emergency | Call 403-652-6353 |
| ATCO GAS - Gas Emergency | Call 1-800-511-3447 |
| FortisAlberta - Electrical Emergency | Call 310-9473 (WIRE) *no area code required |
Other Helpful Information and Reminders
Know your neighbours:
Introduce yourself to your neighbours! Exchange contact information and keep and eye out for each other.
Focus on wellness:
You matter and wellness matters. Stay healthy, stay connected. Reach out for help if you need it. Call FCSS at 403-652-8620
Annual Spring River Monitoring:

Annually the Town of High River reviews the Town preparedness plan including updating the Hazard Risk Vulnerability Assessment and preparing for the hazard season.
---
We're here to help, contact us!
309B Macleod Trail S.W., High River, Alberta
Monday to Friday 8:30am - 4:30pm (Closed on statutory holidays)
corporateservices@highriver.ca
403-652-2110
Maps
Subscribe to the Town Crier!
COVID-19 Information
Frequently Requested Bylaws
Report a Concern