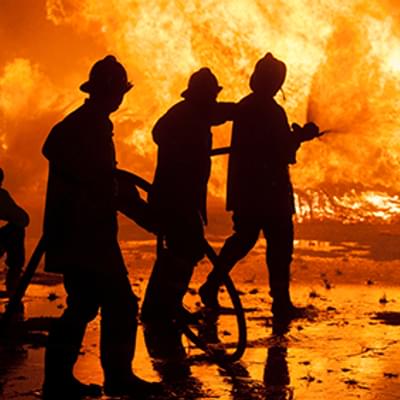 Fire Flash
Here in High River we take pride in our fire prevention strategy and provide residents with helpful and life saving tips to keep them safe. The Fire Flash page will showcase fire prevention articles, interesting facts, stories about what's happening at the High River Fire Department and monthly statistics for High River's emergency responses.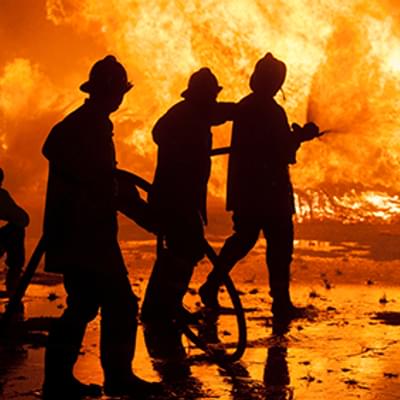 Fire Flash - June 10
Important Reminder
The Fire Chief wants to remind everyone that unpermitted Fireworks of any kind are not permitted within town boundaries. It is unlawful to sell, possess, or discharge Fireworks in the Town unless the shooter has the appropriate Permits, insurance, and licensing to display Fireworks. (Article 13.1, Fire Bylaw 4583-2020)
FAQ of the Month
How do I know if there is a fire ban in effect?
The High River Fire Department will publish any fire bans that come into effect on both the Town's website, Twitter and Facebook page and the HRFD Facebook page. In addition, you may also visit the Alberta Fire Ban Website.
Fire Blotter - June 10
May turned out to be a more routine month with Fire crews responding to a myriad of medical assist calls and just a few grass fires, all of which were quickly under control and extinguished. On some more fascinating notes:
On May 16, fire crews responded to 5 calls for service, including a 4 am call to a residence for a fire alarm. On arrival, no smoke or fire was discovered. A faulty detector caused the alarm.
On May 16, later in the day, fire crews responded to an outside call for a planter smoking on the second balcony of a three-storey townhouse. Crews could access the balcony with ground ladders and found the smoking planter, which had not yet fully ignited. It was quickly extinguished and removed from the balcony. Smoker's material was the cause of this incident.
May 17, fire crews responded to a medical request for respiratory distress. The crew assisted medics with patient care until the patient was transported to the hospital.
Spring Into Summer, Spring Into Safety
Summer is a fun and exciting time when family and friends from different parts of the country come together to relax, go camping, set up bonfires, roast marshmallows, etc. Regardless of the activity you and your friends plan to engage in during the summer months, safety should be your priority, and for good reasons.
According to a report from the USFA (United States Fire Administration), the warm summer months are one of the most challenging periods for fire-related accidents, injuries, and deaths. Countless numbers of fire incidence occur every day during the summer months. Careless campers often cause these fires, wear and tear on cooling equipment, barbequing, bonfire accidents, etc. Here are some simple tips to follow.
Carefully read the instructions for your mower and strictly follow them to the letter. Don't forget to remove the grass clippings and debris from the mufflers, cutting unit, and engines. Never refuel your mower if it is overheated.
Keep your grill a safe distance away from your home and any overhanging branches when grilling. Remove grease build-up and other debris after using it. Do not leave a grill unattended. If you must leave, turn it off before leaving.
May Fire Stats
April saw 72 calls,
4 Fires,
54 Medical Responses,
9 Alarms,
5 Miscellaneous.
Total calls for 2022 so far: 339
For a total of 154 man-hours. 32 inspections were completed. 6 inspections are still open for re-inspection.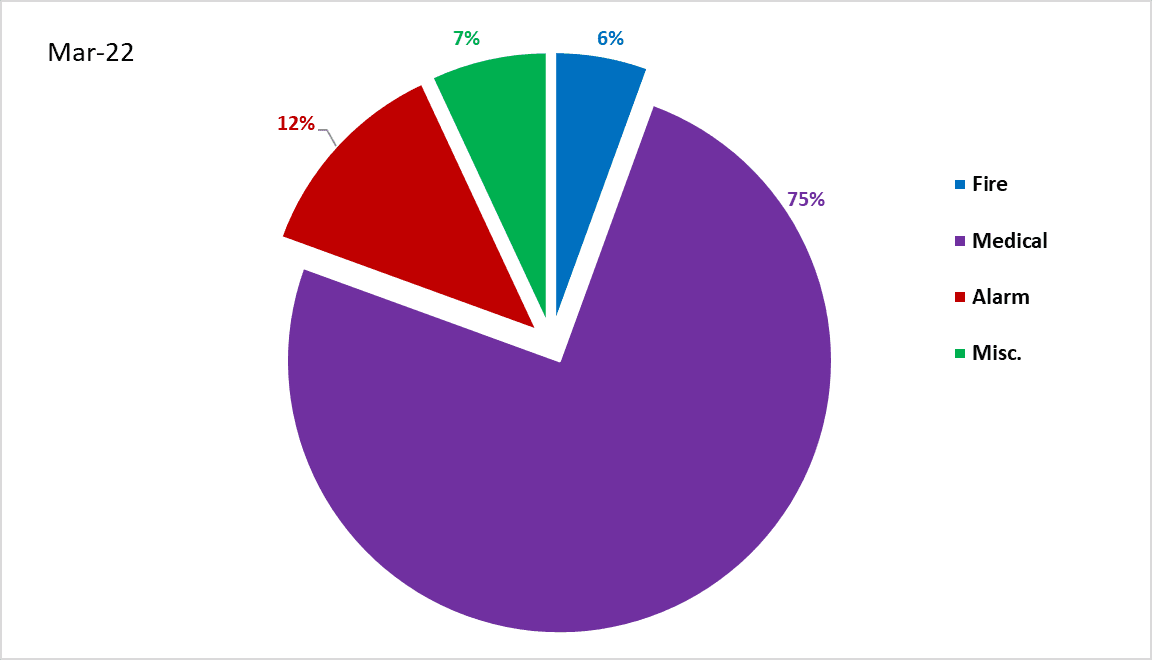 Fire Flash - May 13
FAQ of the Month
Who do I call if I see a fire on the side of the road or in a field?
Believe it or not, last week, the HR Fire Department directly received three calls on the non-emergency line to report small grass fires. One of them was in another department's response area. If you spot any fire that requires attention, please call 911. That is the quickest and most efficient way to get a quick response. 911 will be able to assess the situation and send the closest fire crew.
Fire Blotter - May 13
On April 8, fire crews assisted Okotoks FD with a large grass fire in Okotoks.
On April 11, crews responded to a residential carbon monoxide alarm and found an elevated level of CO in the home. ATCO was requested to attend and found a partially blocked furnace vent.
On April 11, fire crews assisted a resident with a flooded home caused by a failed bathroom fixture. Water was removed, and remediation was coordinated for the residents.
On April 27, fire crews responded to a vehicle fire and found a fully involved pickup truck. The fire was quickly extinguished and contained to prevent fire spread to nearby fields.
Safety Awareness Week
The first week of May is Safety Awareness Week. This year, we remind everyone to be prepared for an emergency by having a 72-hour emergency kit.
Residents of High River are all too aware of how quickly conditions can change. When dangerous situations arise, it's essential to act quickly. Having an emergency kit already prepared can help reduce the stress of making important decisions in urgent situations.
You can choose bins, backpacks, or rolling suitcases and fill them with supplies to last several days. Store them in a place where you can grab them quickly and easily.
Kits should include 72 hours (3 days) of non-perishable food and water (4l/day/person). A change of clothing for everyone is also advisable, as are emergency blankets or sleeping bags. Other items might include:
Candles.
Lighter personal supplies and toiletries.
Soap and sanitizer.
Copies of essential documents.
A small amount of cash and phone chargers for your cell phones.
For a complete kit list, please go to https://www.alberta.ca/emergency-preparedness.aspx.
April Fire Stats
April saw 75 calls,
9 Fires,
4 Motor Vehicle Collisions,
50 Medical Responses,
7 Alarms,
5 Miscellaneous.
For a total of 263 man hours.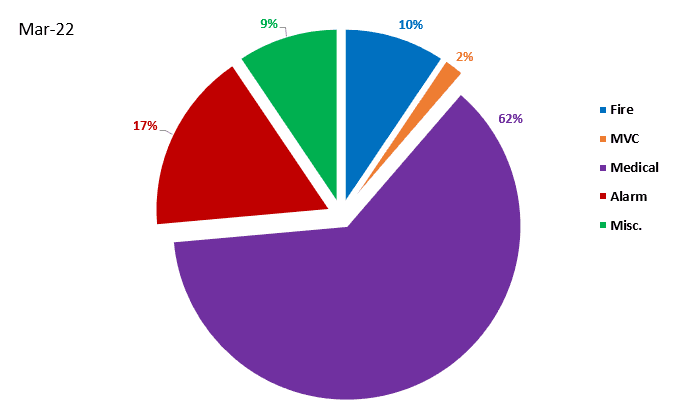 Previous Editions
April 18 Fire Flash
FAQ of the Month
How do I arrange to tour a fire station?
Now that Covid restrictions have been removed we anticipate this is going to become an FAQ.
We suggest contacting us at least 30 days in advance prior to the desired tour date. We can then schedule your tour at the fire station.
Fire safety programs are available for schools, senior citizen groups, and industries; in addition, tours of up to 30 individuals (larger groups are invited to arrange multiple tours). Arrangements may be made by contacting 403-652-3774
Fire Blotter - April 18
The Foothills Emergency Service Program (FESP) is a credit-earning educational program for Grade 11 and 12 students who want to explore occupational options in emergency and health services. Students received their fire bunker gear and have been racing each other to get the fastest time getting dressed. They are now looking forward to some medical scenarios with EMS, learning the ins and outs of prehospital care, and working with self-contained breathing apparatus.
Responding to a rural call, our crew noticed a person lying in the ditch next to a side by side. Another unit responding was asked to stop and check on the individual. All was well.
A tanker truck B train rolled over south of Town. Crews monitored and contained any product leak until a company came to transfer the fuel and clean up the wreck.
Training with our new ladder truck is ongoing. Residents may see it throughout the Town as we practice staging the truck to ensure competency in staging and operation.
Fire crews responded to a house fire on 2nd Ave SE. The fire started on the rear deck and was contained to the one home with minor damage to the siding on the other home next door.
Fire crews assisted Okotoks Fire Department with two residential fires
42 fire inspections have been completed, 35 are closed, and seven require follow-ups.
BBQ Season is Here!
It's that time of the year again! BBQ Season! There's nothing like outdoor grilling. It's one of the most popular ways to cook food. But, a grill placed too close to anything that can burn is a fire hazard. They can be very hot, causing burn injuries. Follow these simple tips and you will be on the way to safe grilling.
Propane and charcoal BBQ grills should only be used outdoors.
The grill should be placed well away from the home, deck railings and out from under leaves and overhanging branches.
Keep children and pets at least three feet away from the grill area.
Keep your grill clean by removing grease or fat buildup from the grills and in trays below the grill.
Never leave your grill unattended.
Always make sure your gas grill lid is open before lighting it.
March Fire Stats
March saw 54 calls,
5 Fires,
1 Motor Vehicle Collisions,
34 Medical Responses,
9 Alarms,
5 Miscellaneous.
For a total of 292 man-hours.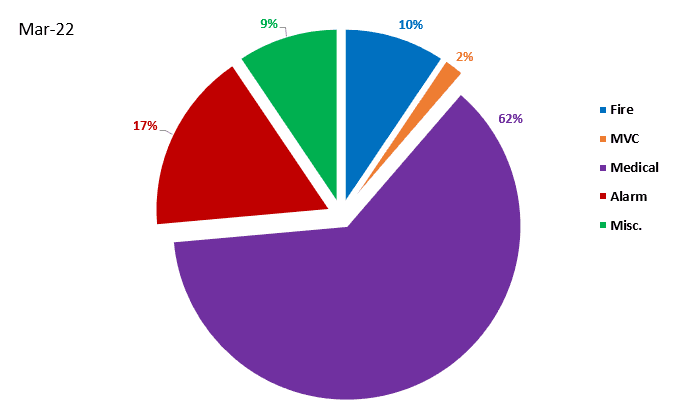 March 18 Fire Flash
FAQ of the Month
Do I need a permit for my burning barrel or fire pit?
For the burning barrel, yes. Contact the Fire Department for this permit.
For a fire pit, no, but you must follow these guidelines and bylaw:
It is contained in a pit with a non-combustible bottom and has a ring of cement or steel minimum of 30cm high.
It is located at least three (3) meters from any Property line, Building, or other structure.
It is clear from flammable fuels, including but not limited to grass, trees, and bushes.
A responsible adult Person constantly supervises it until the Fire has been extinguished. A Fire shall be deemed to include hot ashes and smouldering embers resulting from the Fire.
Flame height does not exceed 90 cm (3.28) feet above the Fire Pit.
It is covered with a 3mm wire mesh; and
Is not used to burn Prohibited Debris:
Fire Pit Fires in a public Campground do not require a permit.
Fire Blotter - February
The Fire Blotter provides information about some calls HRiver'ser's fire crews responded to. Complete stats are in the chart each month.
Feb 6 - Fire Pit complaint- attended a fire pit at the overflow campground behind the Bob Snodgrass Recreation Complex. A fire had been set on top of the fire pit-locked metal lid. Fire Department extinguished the Fire.
Feb 18 - motor vehicle collision- Attended a 2-vehicle MVC. Roads are extremely icy. Vehicle occupants reported no injuries. FD set up traffic management until released by RCMP.
Feb 17 - medical response- arrived to find RCMP on the scene but no patient. The patient left the scene prior to FD'sFD's arrival. The FD cleaned up blood left at the scene to prevent exposure to others.
Feb 24 - Dispatched for a request to assist RCMP, who was tied up on a high-priority situation and requested our help locating a 7-year-old (approximate age) girl seen wandering the pathway nMcDonald'sld's. On arrivalMcdonald'sld's, we began to check the area and talk with open businesses. The child was not in the area any longer. The search continued in neighbouring areas until released by RCMP, who believed the child was now at home.
March is the Start of Grass Fire Season
While there may still be snow on the ground right now, we are about to enter the period known as grass fire season, especially when the weather starts to warm and the fields dry out. Severe grass fires may occur while there IS still snow on the ground.
A wildfire, also known as a forest fire, vegetation fire, grass fire, or brush fire, is an uncontrolled fire often occurring in wildland areas but can consume houses or agricultural resources.
Common grass fires are typically 100% caused by human activity. One in five of these fires is intentionally set. Other leading factors include open burning of debris, smoking materials and electrical power or utility lines, and operating equipment and vehicles in the grass. These fires can be incredibly destructive to our buildings, fencing, homes and feed supplies (hay). Most importantly, they can be prevented.
Grass fires can start quickly and spread rapidly, catching people off-guard. Grass fires are scorching and can produce vast amounts of heat that can kill anyone caught in the open. During a grass fire, the safest place to be is well away from the Fire. When in the vicinity of a grass fire, always keep the burnt ground in mind as a safe refuge. If a grass fire threatens you, evacuation is your best alternative.
February Fire Stats
February saw 66 calls,
2 Fires,
3 Motor Vehicle Collisions,
26 Medical Responses,
8 Alarms,
7 Miscellaneous.
For a total of 131 man-hours. Twelve inspections were completed, and no burn permits were issued.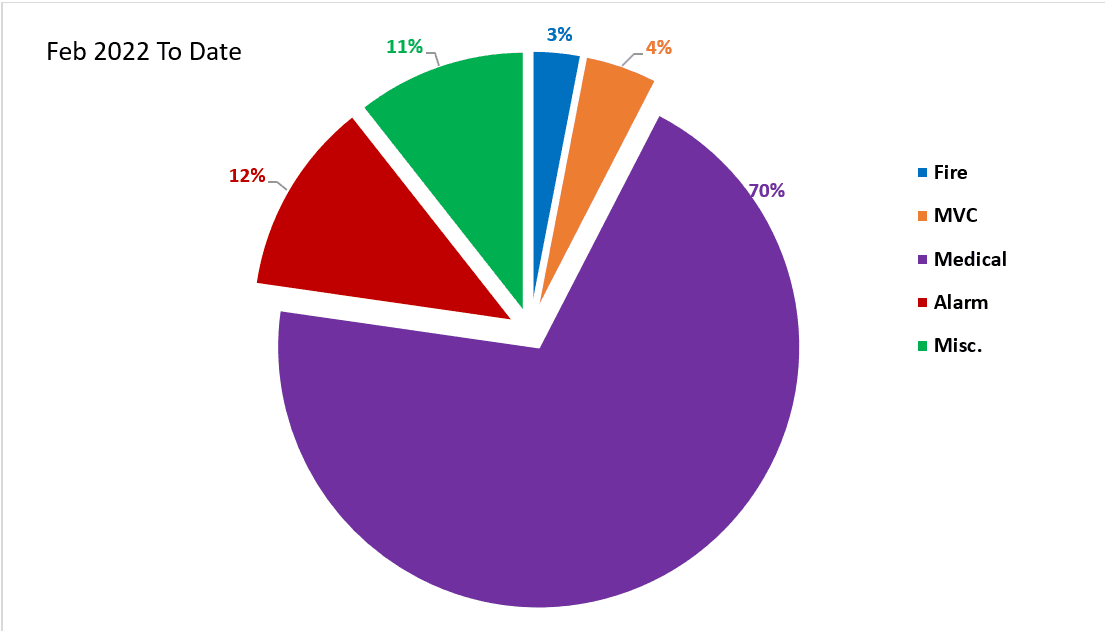 February 18 Fire Flash
FAQ of the Month
Why does a fire engine come when I only requested an ambulance?
A fire truck will sometimes arrive at an incident first because it is the closest unit to the scene. We are committed to getting help to your location as fast as possible. All firefighters have the training to provide basic emergency medical treatment and respond to all calls involving life-threatening symptoms, such as difficulty breathing, chest pain, and severe bleeding. They initiate treatment to stabilize patients and provide information to the paramedics on route to be aware of any advanced life support equipment needed on the scene. Our staff training is a mixture of Standard First Aid, EMT, EMR & Paramedic, and we always have 1-2 trained staff members on shift.
Fire Blotter - January
The High River Fire Department responded to 66 calls for assistance in January. Here is a sample of some of the calls.
The structure fire in Blackie, turned out to be a problem with the rooftop heater on a commercial building.
Active alarms were reported at a multi-occupancy building. A water leak had caused the alarms to activate.
A 2-vehicle motor vehicle collision south of High River turned out to be a non-injury collision.
A single-vehicle collision on Highway 2 south of High River resulted in 2 patients being sent to the hospital.
HRFD responded and assisted Foothills County with a grass fire.
February Cooking Safety Tips
Cooking can be a fun and creative hobby for some. It can also be a life-threatening experience if proper safety measure is not in place. Below are some tips to help keep your cooking fun and safe.
Cooking fire facts
Based on the 2014-2018 annual averages:
Two-thirds of home cooking fires start with the ignition of food or other cooking materials.
Clothing is the item first ignited in less than 1% of these fires, but clothing ignitions caused 8% of the home cooking fire deaths.
Ranges or cooktops account for three-fifths of home cooking fire incidents.
Unattended equipment is a factor in one-third of reported home cooking fires and over half of the associated deaths.
Frying dominates the cooking fire problem.
Safety considerations for cooking with oil
Always stay in the kitchen when frying on the stovetop.
Keep an eye on what you fry. If you see wisps of smoke or the oil smells, immediately turn off the burner and/or carefully remove the pan from the burner. Smoke is a dangerous sign that the oil is too hot.
Heat the oil slowly to the temperature you need for frying or sautéing.
Add food gently to the pot or pan so the oil does not splatter.
Always cook with a lid beside your pan. If you have a fire, slide the lid over the pan and turn off the burner. Do not remove the cover because the fire could start again. Let the pan cool for a long time. Never throw water on the fire.
If the fire does not go out or you don't feel comfortable sliding a lid over the pan, get everyone out of your home. Call the fire department from outside.
What you should know about home cooking safety
Be on alert! If you are sleepy or have consumed alcohol, don't use the stove or stovetop.
Stay in the kitchen while you are frying, grilling, boiling, or broiling food.
If you are simmering, baking, or roasting food, check it regularly, remain in the kitchen while food is cooking, and use a timer to remind you that you are cooking.
Keep anything that can catch fire — oven mitts, wooden utensils, food packaging, towels or curtains — away from your stovetop.
If you have a cooking fire
Just get out! When you leave, close the door behind you to help contain the fire.
Call 9-1-1 or the local emergency number after you leave.
If you try to fight the fire, be sure others are getting out and you have a clear way out.
Keep a lid nearby when you're cooking to smother small grease fires. Smother the fire by sliding the lid over the pan and turning off the stovetop. Leave the pan covered until it is completely cooled.
If you have a grease fire in a pan, NEVER, EVER try took pick it up and especially don't try to get it out of the house. This may cause the fire to spread and it is extremely dangerous and possibly fatal.
For an oven fire, turn off the heat and keep the door closed.
January Fire Stats
January saw 66 calls,
2 Fires,
10 Motor Vehicle Collisions,
42 Medical Responses,
6 Alarms,
5 Miscellaneous
1 Mutual Aid Call.
For a total of 158 man-hours. Eight (8) inspections were completed, and no burn permits were issued.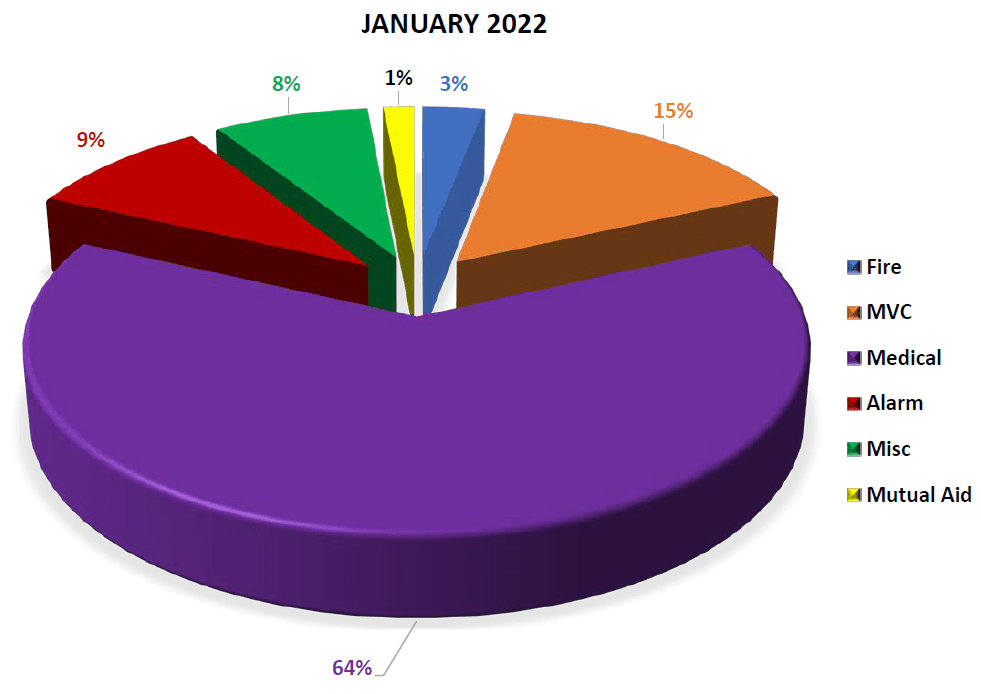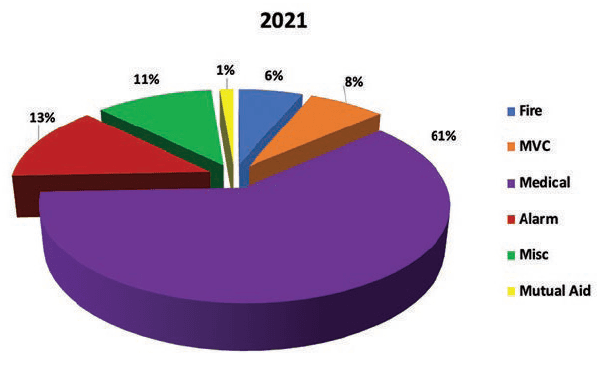 ---
We're here to help, contact us!
Fire Hall 1010 5th St SE High River, Alberta
Monday to Friday 8:00am - 5:00pm
fire@highriver.ca
Fire Department: 403-652-3774
Bylaw Complaint Phoneline: 403-603-3643
General Inquiries and Administration: 403-603-3644
Follow us on Facebook
Maps
Subscribe to the Town Crier!
COVID-19 Information
Contact the Fire Inspector - Stewart Corbett
scorbett@highriver.ca
403-336-5903
Report a Concern
Emergency Management Services
Bylaw Services
High River Fire & Protective Services