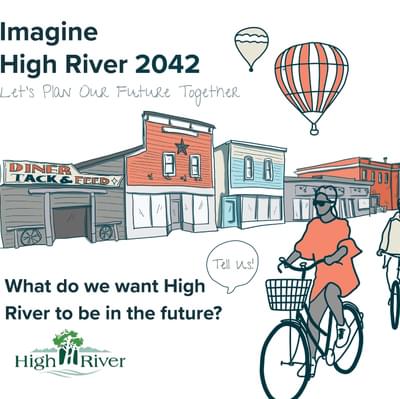 Imagine High River 2042! Let's Plan Our Future Together!
Imagine High River 2042. The Town Plan Project is underway. Let's plan our future together! Check back often for updates and ongoing opportunities to share what matters to you.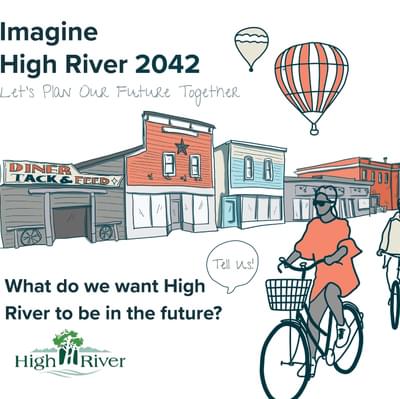 Our Community, Our Town Plan
What is a Town Plan?

Also called Municipal Development Plan (MDP), the Town Plan is a key policy document that describes a vision and desired outcomes for the future of High River. It shows how our community is expected to change over time and the shape it will take. The new Town Plan will include policies, objectives and strategies for how the Town will work towards that vision through the land use decisions, development management, and investment in infrastructure and programs.
The current Town Plan was prepared with advice and guidance from interested residents, consultants and stakeholders. View the 2009 Town Plan.
We are on a journey to develop an updated, new plan that reflects our community's needs and values. Tell us what matters to you - we are listening! Visit the Town Plan Project Community Engagement website, and share with us what is important to you.

Click on the tabs below for more details, and be sure to check the latest updates for information about how to stay involved!
Latest Updates

You're invited to Coffee with Council on September 6
Drop by for a coffee and donuts on us!
September 6, 10-11:30 a.m. at the High River Library.
Visit the High River Library and chat with Mayor and Councillors.
Bring your concerns or any questions you have.
Find out what's up with the Town Plan and other initiatives.
June 1
Planning is Underway for the Next Phase of Town Plan Community Engagement

The first phase of community engagement focused on a new Town Plan has been a great success! Planning is underway to reach out to the community and look deeper into the many ideas and suggestions received. In the past two months, residents have enthusiastically provided ideas and suggestions, contributing to the development of a new plan that will guide High River's future, with a vision for how our community will grow over the next twenty years.
May 6

Town Plan Update and Neighbourhood Pop-Ups

The first phase of official community engagement for the Town Plan will run from May 9 – 20. Thank you to those who took part in drop-in sessions at the beginning of April and those who continue to provide additional comments online; feedback from residents is crucial to the town-planning process.
April 26
Imagine High River 2042! Share and Learn About Our Town Plan April 5-9
The Town Plan Project is about to begin, and we are excited to hear from you and share how you can get involved! Everyone is invited to drop in at locations around the community this week to chat about High River's future. We're asking you – What should High River look like in 2042?
March 18
March 11

High River's Roadmap to 2042 - Town Plan Project Moving Forward

Council has officially selected McElhanney Ltd. to help rewrite the Town Plan. The Town Plan is avital guidance document required under the Municipal Government Act. The Town Plan will serve as a Roadmap, guiding future growth and development for the next 20 years. The plan will define how our town will look in the future.
The Town continues to recruit for the Town Plan Task Force and will select two more volunteers from our community. One of the volunteers will be a young person between the ages of 14 –19who will also join the High River Youth Advisory Committee. This is an excellent opportunity for those with background and interest in planning to contribute to the long-term view and vision for High River.
If you are interested in joining this important Task Force, you are welcome to contact Planning and Development with any questions: planning@highriver.ca. Watch this web page and follow the Town's social media channels for more updates.
March 8 Council Report
January 24
High River is a growing and changing community. We want your ideas on how and where to grow! The Town is embarking on an update to our Town Plan, the key document that guides long-term growth and development of High River. It is important that an updated Town Plan embraces our community's charm while ensuring we remain progressive.
Imagine High River 2042! Town Plan Project Information
Let's Plan our Future Together!
The Town Plan Project is officially underway. Check back often for updates and information about how you can help shape High River's future! We are listening! To see what we've done so far, read the latest updates below.

Meet the Town Plan Task Force
Town Plan Task Force Committee Members - view list of members

Town Plan Task Force members are working together to ensure there is a community-driven process undertaken for the duration of the Town Plan re-write project. The Task Force members are helping to guide public engagement methods by sharing their knowledge of our community. They will also assist the project team in creating a document that can be used by the entire community to reach shared goals and objectives.
Town Plan Task Force Terms of Reference
Town Plan Task Force Role and Duration
The Task Force will liaise with the project team for the duration of the project, which is anticipated to be between 11 months once the project kicks-off in the first quarter of 2022.
The Task Force will be involved in project team meetings, development of the engagement plan, review of consultant recommendations, drafting of the vision, goals, objectives and policies, and determining the overall format and organization of the final Town Plan.
Key Elements of a Town Plan
Under the Provincial Municipal Government Act (MGA), the Town Plan (also known as a 'Municipal Development Plan') is a requirement for all municipalities. The current Town Plan was developed in 2009 and amended to include a Growth Management Strategy in 2013.
The Key Focus Areas of the Town Plan Update will be identifying:
What makes High River special and what are our community values?
What has changed in our community since 2009 and how will we continue to grow?
What kinds of housing do we need?
Where should future development occur?
What are our transportation needs?
How can we support and encourage business and industry?
How can we protect and celebrate our natural environment and green spaces?
What policies and strategies can we establish to make sure future growth and development adheres to our community vision?
Can't attend a planned event? Contact Us with your questions or comments...
Questions? Comments? We want to hear from you! If you are unable to attend drop-in sessions and other planned events, call us, and we will meet you where you are or chat by telephone. Contact Project Manager, Khalid Mohammed, Manager of Planning & Development Services at 403-603-3408 or kmohammed@highriver.ca
---
We're here to help, contact us!
309B Macleod Trail S.W., High River, Alberta
Monday to Friday 8:30am - 4:30pm (Closed on statutory holidays)
planning@highriver.ca
403-603-3407
Maps
COVID-19 Information
Frequently Requested Bylaws
Report a Concern