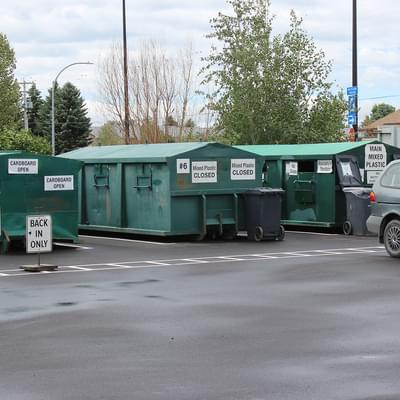 Recycling
Thousands of tonnes of recyclables are kept out of landfills each year by recycling. Thank you for doing your part! Find great tips and Recycle Center Hours here.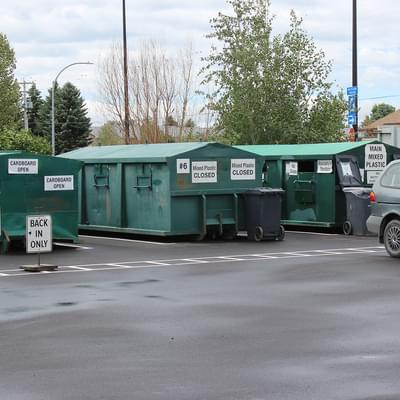 At the Recycling Centre, you will find signs with examples to help properly sort your recyclables. Here are some other tips to make sure your visit to drop off recycling is safe, easy and quick!

Please pre-sort recycling to minimize time at the High River Recycling Centre.
Social distancing is required while dropping off recycling.
There may be line-ups following the holidays – pre-sorting will help everyone to drop off more quickly and safely.
The Centre is not open on Statutory Holidays.
Items cannot be left after hours.
High River Recycling Center Summer Hours
Closed on Statutory Holidays
Sunday - 8:00 a.m. - 5:00 p.m.
Monday - 10:00 a.m. - 5:00 p.m.
Tuesday - 8:00 a.m. - 5:00 p.m.
Wednesday - 8:00 a.m. - 5:00 p.m.
Thursday - 8:00 a.m. - 5:00 p.m.
Friday - 10:00 a.m. - 5:00 p.m.
Saturday - 8:00 a.m. - 5:00 p.m.
Important information about recycling contamination:
Ensure all recyclables are clean.
Dirty cardboard or plastics contaminate our loads and cost the Town money at the sorting facility.
Contamination may compromise an entire load of recycling - please do your part to make sure everything contributed is useable at the sorting facility.
Residents who do not want to clean their recyclables should place them in their residential garbage to minimize the risk of contaminating recycling loads.
Town staff are on-site for help if you have questions. Please call us at 403-652-2110 if you have any questions about the High River Recycling Center!
Accepted Recycling Items
Accepted Recycling Items
Clear Glass

No coloured glass, ceramics, mirrors or safety glass items at this time

Mixed paper: Magazines, phone books, and white bonded paper and box board (thin, lightweight paperboard packaging i.e.: cereal/snack boxes and Kleenex boxes)
Newsprint: Includes all inserts and flyers in your newspaper
Tin cans: Must be cleaned and labels removed
Cardboard: Corrugated cardboard with ridges
Mixed rigid plastics: All plastics #1-#7. Only plastics with a printed number on them are able to be recycled
Soft plastics: Plastic bags or soft plastic packaging
Styrofoam: White polystyrene packaging that is clean, free of tape, staples and contaminants.

Food packages, soiled or dirty packaging, hard materials or coloured polystyrene will not be accepted

Cell phones: Drop off any old cell phones
Batteries: Ni-MH, Ni-Cd, SSLA/Pb, Li-Ion, Ni-Zn batteries under 5 kg for recycling

For a full list of acceptable batteries please CLICK HERE.

Electronics: Eligible products include televisions, computers (including CPU, keyboard, mouse, cables, and speakers), monitors, printers, laptops and tablets)

For more on recycling electronics visit ARMA
Not Accepted for Recycling
Not Accepted for Recycling
Garbage
Oil containers, lawn care containers (pesticides)
Tires
Refrigerators
Vehicle batteries or any batteries over 5kg
Wood
Dirty plastic wrapping such as Saran Wrap or meat packaging
Corrugated cardboard such as pizza boxes that are greasy or have food particles
Coloured glass, ceramics, mirrors, safety glass not accepted (clear glass only is accepted at this time)
Food packages, soiled or dirty packaging, hard materials or coloured polystyrene will not be accepted
---
We're here to help, contact us!
640 7 Street N.W. High River, Alberta
Public Works Office: 7:00 am - 4:00 pm, Monday to Friday
Recycling hours Monday & Friday, 10:00 AM - 5:00 PM, Tuesday to Thursday: 8:00 AM - 5:00 PM Saturday and Sunday: 8:00 AM - 5:00 PM (Closed on statutory holidays)
operations@highriver.ca
403-652-4657
Maps
Subscribe to the Town Crier!
COVID-19 Information
Frequently Requested Bylaws
Report a Concern