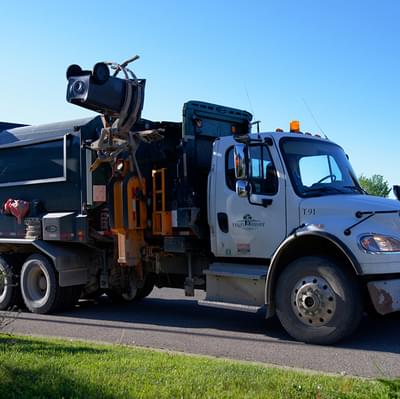 Residential Garbage Collection Services
Keeping our roads safe and clear all year around. Tips, schedules, maps and apps for all public works services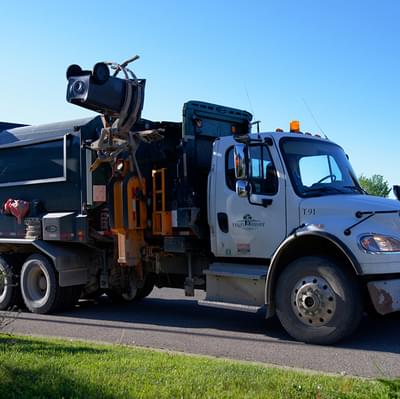 2023 Statutory Holiday Garbage Collection Schedule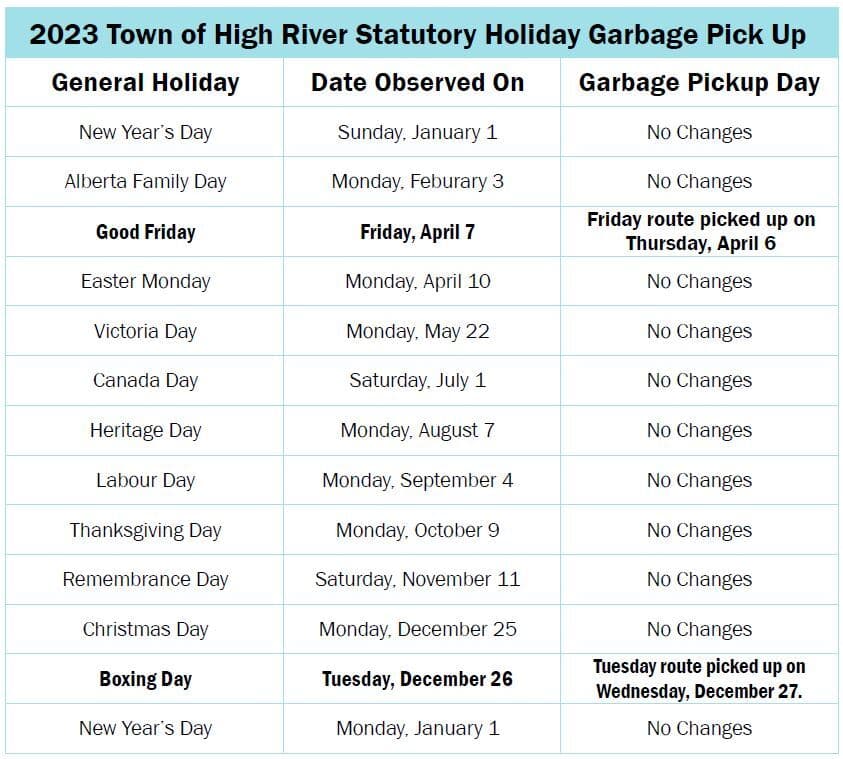 The Town of High River provides automated garbage collection services to single-family homes on a weekly basis. Please set your garbage cart out by 7 am on your collection day and leave at least 3 feet around your bin to make pick-up easier for large equipment. All household garbage must be in bags with no overflowing bins or bags stacked beside them.
Residential Collection Information
Depending on the Statutory Holiday we will notify residents through our social media and website if the collection day will be moved prior to or after the Statutory Holiday.

Garbage Collection Carts
Garbage in the collection carts should only consist of regular household garbage. The Town will not take items such as oil, chemicals, automotive parts, Christmas trees, furniture, large pieces of wood, metal or construction materials.
There are two residential sizes to choose from:
Please note a $31.86 administration fee will be applied when changing the size of the automated waste collection cart.
240 Litre Garbage Collection Cart ($22.91/Bi-monthly)
360 Litre Garbage Collection Cart ($31.86/Bi-monthly)
To order, please contact Town Operations. For complete details on pricing and fees, please view the Current Rate Bylaw.
Replacement garbage carts can be obtained by calling the Town of High River Operations Shop during regular business hours. If you have found your lost bin, please wash it out and reuse it if possible. Residents will need to pay to replace a lost or missing cart.
Waste Collection Do's and Don'ts
The Town's Solid Garbage Management Bylaw lists resident responsibilities to make garbage collection efficient, timely and safe. Please read this summary to learn how you can help.
In order to prevent loose garbage from falling on the ground, road, grass or other areas please ensure that any garbage that is to be collected is bagged. The Town reserves the right to withhold collection of improperly prepared garbage, prohibited garbage, excessive quantities of garbage, or garbage located at unsafe or non-compliant set-out locations.
Please do:
Make sure that there is a 5 cm space between garbage and the top of the Receptacle
Ensure garbage receptacles/collection carts are placed at collection points no later than 7 am on the scheduled collection day
Please do not:
Place garbage anywhere other than in the garbage receptacles (container, cart)
Over-fill the garbage container or collection cart
Place garbage receptacles in locations that are: unsafe, obstructed, blocked by snow, ice, poorly maintained, and uneven
Set out garbage receptacles/collection carts before 7 pm the evening of the day prior to collection
Disposal of Dangerous Items
The Town will not remove any of the following during garbage collection:

Highly combustible or explosive materials including but not limited to liquid or solid fuels, gunpowder, ammunition or explosives
Hot ashes which are not properly quenched and appear to be hot or likely to cause a fire
Compressed propane or butane cylinders
Toxic or household hazardous garbage including solvents, oven cleaners, paints, automotive fluids, wet cell batteries, pesticides, herbicides, or any material commonly referred to as household, commercial, or industrial hazardous waste
Biomedical garbage including hypodermic needles or syringes, lancets or any sharp item used in-home medical care
Large bulky items such as mattresses, box springs, dressers, tables, chairs, major appliances, auto and truck parts, tires, tree limbs, whole shrubs, or discarded heavy machinery
Sheet iron, large pieces of scrap metal or machine parts
Electronic equipment including televisions, computers, computer monitors, keyboards, and associated cables
Renovation, construction or demolition material
Stumps, concrete blocks or slabs, soil, rocks or aggregate
Dead animals and animal parts from hunting or trapping
Transient garbage
Septic tank pumping, raw sewage, or industrial sludge
Radioactive waste
Garbage material that has not been placed for collection in accordance with the provision of this bylaw
Liquid waste or material that has attained a fluid consistency and has not been drained
---
We're here to help, contact us!
640 7 Street N.W. High River, Alberta
Public Works Office: 7:00 am - 4:00 pm, Monday to Friday
Recycling hours Monday & Friday, 10:00 AM - 5:00 PM, Tuesday to Thursday: 8:00 AM - 5:00 PM Saturday and Sunday: 8:00 AM - 5:00 PM (Closed on statutory holidays)
operations@highriver.ca
403-652-4657
Maps
Subscribe to the Town Crier!
COVID-19 Information
Frequently Requested Bylaws
Report a Concern