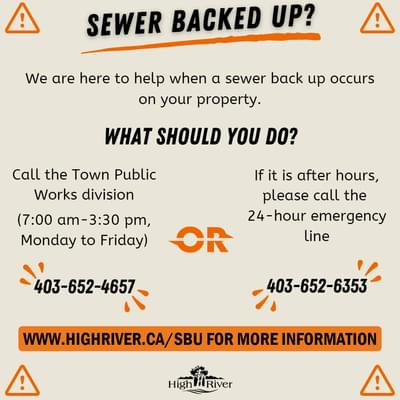 Sewer Back Ups - What Should You Do?
We are here to help when a sewer backup occurs on your property.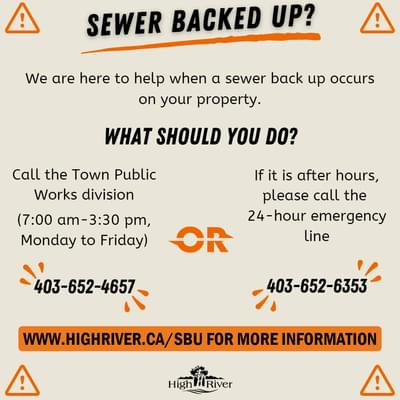 In the case of a sewer backup, the first thing to do:
Call the Town public works division at 403-652-4657 between 7:00 am and 4:00 pm Monday to Friday, excluding holidays.
If it is after hours, please call the 24-hour emergency line at 403-652-6353.
Town crews will respond to assess and verify the sewer main line in your area is running freely.
Suppose the assessment indicates the sewer mainline is clear with no obstructions. In that case, the crews will advise you to call a plumber to assess the lines on your property line.
When calling a plumber, we suggest confirming the costs associated with auger and camera services (including the camera video) through your sewer lines to your property before they respond.
The approximate cost should be $500 or less, assuming a local plumber responds and there are no additional mileage or labour charges.
If the plumber assesses the sewer lines on your side of the property line and no obstruction is located, the Town will return to assess the portion of the sewer line from your property line to the sewer main connection.
If the issue is determined on the Town side of your property line, the Town will work with you to reimburse the cost of the auger and camera service as it relates to the incident.
In these circumstances, coordinating your reimbursement is managed by our Corporate Properties and Risk Management division. You can reach them directly by calling 403-603-3658 or emailing CPRM@highriver.ca.
The Town crews will provide you with a Public Reporting Form and contact information for Corporate Properties and Risk Management so you can provide all the necessary documentation for the Town to investigate and confirm with the crew's call-out and incident reports.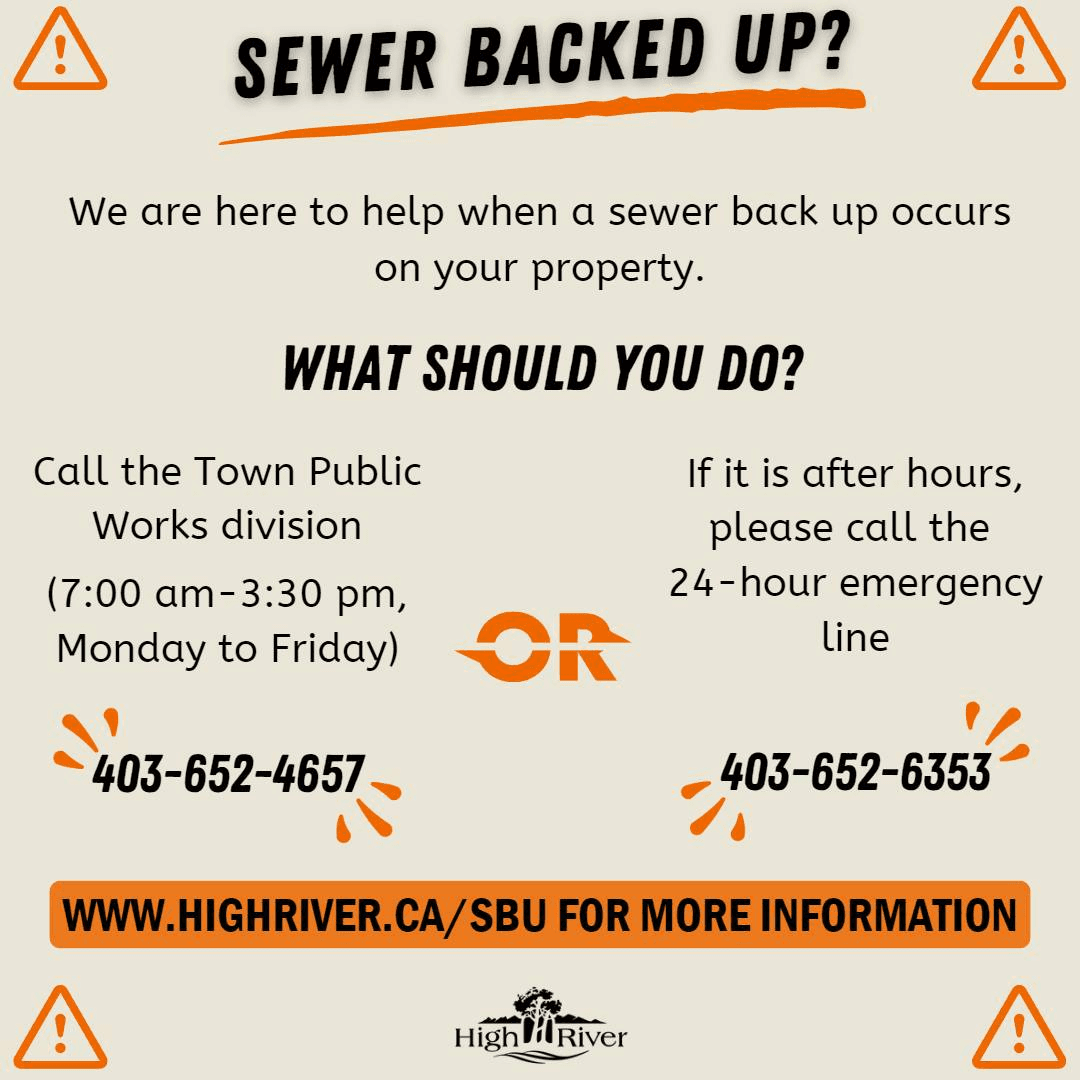 ---
We're here to help, contact us!
640 7 Street N.W. High River, Alberta
Public Works Office: 7:00 am - 4:00 pm, Monday to Friday
Recycling hours Monday & Friday, 10:00 AM - 5:00 PM, Tuesday to Thursday: 8:00 AM - 5:00 PM Saturday and Sunday: 8:00 AM - 5:00 PM (Closed on statutory holidays)
operations@highriver.ca
403-652-4657
Maps
Subscribe to the Town Crier!
COVID-19 Information
Frequently Requested Bylaws
Report a Concern