Tips to Practice Ice Safety this Winter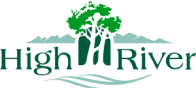 by Town of High River
09/11/2022
Community
Town of High River Encouraging Residents to Practice Ice Safety this Winter
HIGH RIVER – With temperatures dropping and bodies of water beginning to freeze, the Town of High River would like to remind residents about the importance of ice safety.
The winter brings fun activities like hockey, ice skating, ice fishing and more. When temperatures fluctuate, venturing onto the ice on any body of water can be fatal.
Below are some tips to help you stay safe around ice this winter.
During unseasonable warm temperatures, remember that the ice is melting and is not safe!
Ensure children are always under supervision and keep pets on a leash.
Only skate on still bodies of water, such as lakes and ice over 20 centimetres thick.
Avoid streams and flowing water, even if it looks frozen.
Residents are encouraged to look at the colour of the ice when determining its strength.
Clear blue to black ice is the strongest and likely the deepest.
White opaque or snow ice should be avoided.
Grey ice indicates the presence of water and is unsafe to stand on.
What do I do in an ice emergency?
If you fall in, immediately call for help and have someone dial 9-1-1.
If you fall in, trying to climb out can break weak ice around you. Remember to stay calm and look toward the shore.
Place your hands and arms on the unbroken surface of the ice and work forward by kicking your feet. Doing this will help keep you horizontal and help you "swim" out of the hole.
Once you are lying on the ice, roll away from the hole and do not stand.
Crawl back towards your tracks and follow your tracks back to shore.
What do I do if I witness someone fall through the ice?
Rescuing another person from the ice can be dangerous. It is best to wait for trained professionals to arrive or wait for help from other bystanders.
Remember to stay calm and call 9-1-1.
Do not run up to the hole. You may break through and fall in.
Use an item on shore to extend out to them to help pull them out of the hole.
Get medical assistance & only go onto the ice if wearing a flotation device.
For more information on how to stay safe around ice this winter, please visit highriver.ca/ice-safety.
- 30 -
For more information:
Town of High River
403-652-2110