Adventure Awaits in High River! New Website Gives Town a Fresh New Look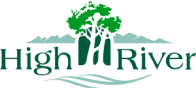 by Town of High River
18/08/2021
Business Community Council
Adventure Awaits in High River! New Website Gives Town a Fresh New Look
August 18, 2021
High River – Adventure Awaits, High River! Join us in stepping into a new, modern look and feel as the Town of High River launches the new highriver.ca
"The new site is fresh, inspiring and really breaks the boundaries of what the Town is used to seeing," said Mayor Craig Snodgrass. "As a priority of Council, we wanted to create an information hub that is not only unique, but also intuitive. You'll find that perfect balance when you visit highriver.ca!"
Featuring natural colours, an innovative, sleek design and imagery that exemplifies our community, the new site was created for and with residents in mind.
With a goal of bridging the gap and being more accessible, residents can share concerns, ask questions and connect with the Town with a simple click. No matter what you're looking for, the new highriver.ca makes it easy to subscribe to news stories, report a concern, get up-to-date information on events and more.
"As a people first community, it was important to Council to develop a concept that resonated with residents," said Mayor Snodgrass, adding "This website is dynamic and captures the spirit of High River and where we're headed in the future."
Combining High River's western heritage with a contemporary feel, residents will be able to find the resources they are looking for with pages and features that nod to the authenticity and culture of High River.
The new highriver.ca will serve visitors as well, showcasing the community as the back door to the Kananaskis with beautiful storefronts, incredible eateries, natural green spaces and a vibrant, warm community feeling.
There truly is a part of High River for everyone to experience on the new highriver.ca, but don't just take our word for it, check it out yourself!

For more information, please contact:
Town of High River Communications
communications@highriver.ca