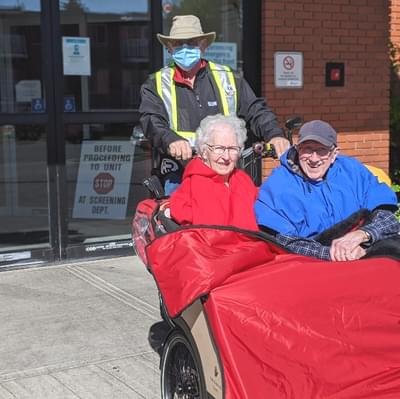 Cycling Without Age
Reconnecting less able seniors and individuals to their community through open-air rides on trishaw bikes.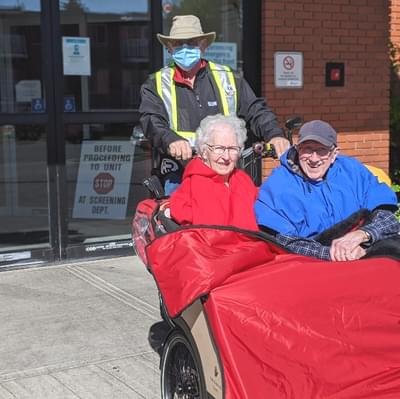 Cycling Without Age is a global movement that seeks to ensure that all community members can experience 'the right to wind in their hair.' It is a program where volunteers (called pilots) drive less able seniors and others around High River on trishaw bikes.
Being outdoors, reconnecting in the community and with pilots nurtures emotional well-being. Cycling Without Age Canada notes the simple act of taking seniors for a bike ride helps them explore their communities, nature, and the world around them.

"A program like Cycling Without Age shows the true heart of our community," says Mayor Craig Snodgrass. "Thank you to the volunteers, contributors, partners, and the community at large for continuing to make this special program a success. Your generous giving shows that this Town truly puts people first."
High River joined the program back in 2017 when the Town, in partnership with the Seniors Collective, applied for a grant to purchase trishaw bikes. Since that time, pilots have provided hundreds of rides. The program trains new volunteers to pilot the trishaw bikes every Spring.

If you would like to book a seasonal ride for a community group or organization, or if you are interested in volunteering as a pilot, contact Caitland.

---
We're here to help, contact us!
Caitland Asmundson
251 9 Ave SW (The Culture Centre) High River, Alberta, T1V 1A4
403-603-3653
casmundson@highriver.ca
Book a Ride