Aquatic Facility Expansion Open House: We Want Your Feedback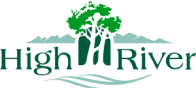 by Town of High River
10/10/2023
Community
The Town will host an open house on the Aquatic Facility Expansion on Tuesday, October 17 from 6 – 8 pm in the Fieldhouse at the Bob Snodgrass Recreation Complex.
The proposed expansion design is double the space of the existing facility and extends its lifespan for another 40 years. It includes an enhanced lobby that will function as a central gathering space complete with lounge, exercise and child-friendly areas.
The aquatics area features a beach leisure pool, lap pool, water slide, sauna and more. Additionally, there is a centralized lifeguard office to enhance overall monitoring and safety of the facility.
"The change room design incorporates a common locker room with private change stalls. Open changing will not be allowed in this new design," said Mayor Craig Snodgrass. "The stalls are full height for maximum privacy and can be used by any individual. Overall, this design supports the Town's priority to ensure resident safety as the layout allows easy monitoring by the patrons and staff of the common area. Aquatic activity programming will be staggered so that change room use does not exceed capacity."
Due to public feedback, alternate change room designs will be available for viewing and comment at the open house. One alternate design seeks to reduce blind spots by rotating the lockers so that the line of sight from the deck into the change room is clearer. Another alternate design sticks with the traditional layout, largely echoing the current design at the aquatic facility.
More background and details on this project can be found on the Aquatic Facility Expansion section of the website.
- 30 -
For more information:
Town of High River
403-652-2110