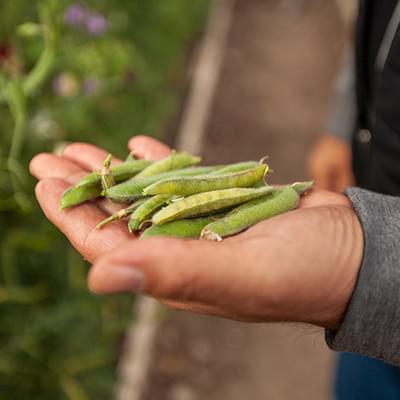 Harvest High River and Community Gardens
High River is known for coming together to grow a beautiful future, and our Edible Plantings and Community Gardens are no exception! Explore consumable plants available to all, found throughout Town. Residents and visitors alike enjoy taking relaxing tours through our Community Gardens on beautiful summer days.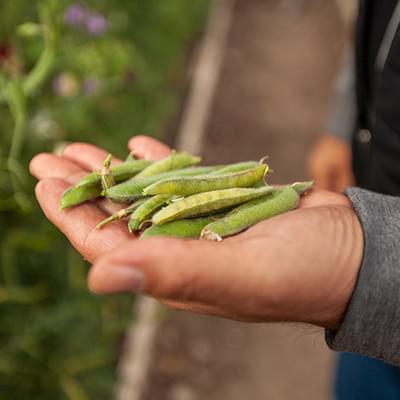 Harvest High River Consumable Plants
Every spring, our Parks staff places beautiful hanging baskets and floral arrangements throughout High River, bringing beauty and charm to summer days. Included in the plantings are consumable plants, available to all!
The Harvest High River Consumable Plants Map is an interactive map showing where you can find a wide variety of consumables, including everything from pears and apples to delicious saskatoons and cherries!
Local Community Gardens

Two Community Gardens are located in High River's southwest neighbourhood of McLaughlin Meadows, near the Town Farm, and in the green space at the south end of Riverside Drive NW.
These gardens are the outcome of months of meetings, research, site visits, and public consultation by the Town's Ad Hoc Community Garden Committee in conjunction with Town parks planning staff.
While generous funding from the TD Bank's Friends of the Environment Foundation (TDFEF) and the High River Disaster Relief Fund was instrumental in making this project a reality, the donation of some materials and volunteer labour also helped to make the funding go further, and truly create a hands-on community project.
Both gardens are governed under an agreement between the Town of High River and the High River Garden Society, which was formed in the spring of 2016. The gardens are operated by the Society.
While the plots are fully subscribed at this point, those wishing to do so can inquire about adding their name to an annual waiting list.

For general information regarding the two community gardens or to register for a garden plot, please contact the President of the High River Garden Society at highrivergardensociety@gmail.com or visit www.highrivergardens.org.
---
We're here to help, contact us!
228 - 12 Ave SE High River, Alberta
parksandrec@highriver.ca
403-652-4042
Facebook
Maps
Subscribe to the Town Crier!
COVID-19 Information
Report a Concern
Sign Up for Parks and Rec Newsletter
Frequently Requested and Environmental Bylaws
Sign Up for Play Parks and Rec Day Camp Updates!