Planning Applications and Handouts
Applications and handouts for everything from additional dwellings and fences, to putting up a sign or keeping bees and chickens in Town
PUBLIC HEARING - October 23 Public Hearing re Closure of a Portion of 7th Avenue SE

A Public Hearing is scheduled for 3:00 p.m. on October 23 at 3:00 p.m. in Town Hall regarding Bylaw 4618/2023 to
close a portion of land in an unopened portion of 7th Avenue SE.
The Public Hearing provides people with an opportunity to ask questions or provide comments and feedback directly to Town Council.
The land is an unopened road allowance and not used for travel.
The application is from two landowners whose properties are adjacent to the land. In 1981 a former landowner entered into a lease with the to use it as an extension of their property.
If this Bylaw is approved, the applicants can purchase a portion the land at Fair Market Value.
The Town will ensure notice is provided to utility companies, Alberta Environment and Protected Areas and all adjacent landowners.
For information on how to take part in a Public Hearing visit highriver.ca/public.
For more information about this Public Hearing, contact planning@highriver.ca
Click to view large version of map below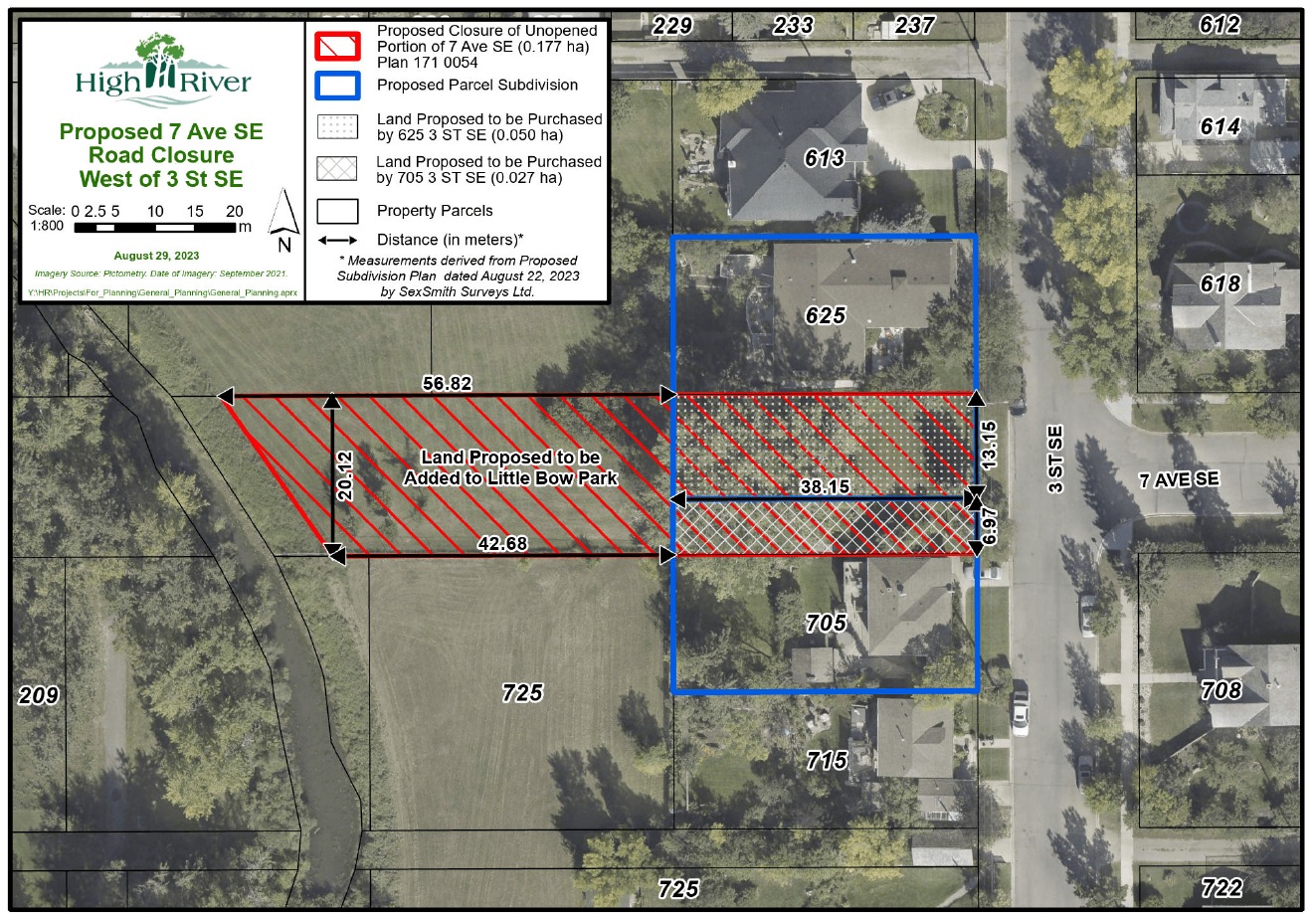 The Planning Department
The Planning Department processes and issues decisions on a variety of applications, including compliance requests, development permits, subdivisions and bylaw amendments. See below for a list of applications and handouts.
Handouts, Information, Applications, Certificates and Financial forms and other information can be found below. If you can't find the document you need, please contact our planning staff for assistance. Contact information is in the menu to the right.


Planning and Development Applications, Forms and Handouts
---
We're here to help, contact us!
309B Macleod Trail S.W., High River, Alberta
Monday to Friday 8:30am - 4:30pm (Closed on statutory holidays)
planning@highriver.ca
403-652-2110
Maps
COVID-19 Information
Frequently Requested Bylaws
Report a Concern