High Country Drive Feedback Survey Remains Open to October 6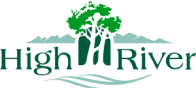 by Town of High River
29/08/2023
Community Construction
High Country Drive Update: Feedback Survey Remains Open to October 6
Thank you to all our community members, residents, and business owners who took the time to complete our High Country Drive feedback survey. We have taken action to address your concerns and have removed the speed cushions from the temporary High Country Drive intersection. Questions about the 4-way stop and bump-outs plus general commenting is still open to the end of this week.
Your Voice Matters!
Your input is crucial for enhancing our community's infrastructure. All residents can complete the feedback survey at highriver.ca/high-country-drive. Your location is not a limitation – valuable insights come from all corners.
Next Steps:
Your feedback steers us. Once we have reviewed the community's input, the Town of High River Council will chart the course for the intersection's future.
Your patience and support make a difference. Together, we can create a safer and more efficient road network for everyone in High River.
-30-
For more information:
Town of High River
403-652-2110