Work on 4-Way Stop at High Country Drive Begins August 21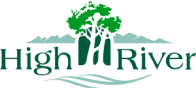 by Town of High River
18/08/2023
Community Construction Council
HIGH RIVER – Work on a 4-way stop, speed cushions, and bump-outs at the intersection of High-Country Drive and High View Gate NW will begin on Monday, August 21. It is scheduled to be completed by the end of the week, weather permitting. Residents are advised that signs, detours, barriers, and flaggers will be in place to direct traffic.
Local access will be maintained throughout the construction, delays should be expected. If driving in this area, you are encouraged to follow signs and detours for the easiest route and to avoid delays. Please drive with caution in this area until work is completed.
Details:
What: Installation of a 4-way stop, temporary speed cushions, and bump-outs.
Where: Intersection of High Country Drive and High View Gate NW.
Dates & Work Hours: Starting August 21, 2023, work will occur between 7:30 am and 4:00 pm daily. Work will be completed by the end of the week weather permitting.
Intersection passage during construction is limited to local traffic only. Flaggers will be stationed at the intersection during work hours to facilitate access to homes and driveways within the construction zone. After 4:00 pm the intersection will remain open for local traffic. There will be no equipment working and no flaggers after 4:00 pm. Please drive carefully.
Access to the Spray Park and Pump Track: Residents are encouraged to use Longview Trail NW and Highwood Village Gate NW for the least amount of delays.
Why: At their meeting on June 12, 2023, High River's Town Council passed a resolution to move forward with this temporary solution in response to community requests for controls at the intersection of High Country Drive and High View Gate NW.
Map showing detours and access during construction (Click to open a large, printable image)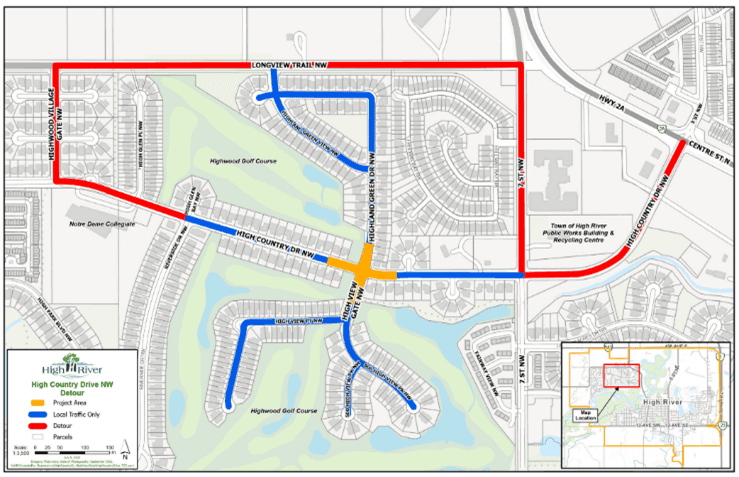 Click to open in Google maps – area map only (no project or detour information)
Resident Feedback Opportunity Following Project Completion
Once completed, the temporary speed cushions will slow traffic coming to the 4-way stop. At the same time, the temporary bump-outs will ensure additional visibility and a narrower crossing at the intersection. Data on the effectiveness of this solution will be collected post-construction.
Residents and the High River Community will be invited to provide feedback on the temporary 4-way stop, speed cushions and bump-outs. Watch for more information coming soon.
Further updates on this project and other construction can be found on the Town's social media accounts and highriver.ca.
- 30 -
For more information:
Town of High River
403-652-2110