Installation of First Accessible Swing Set in High River Set to Begin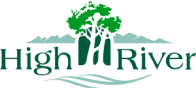 by Town of High River
26/05/2021
Parks & Recreation
A new, multi-purpose swing is being added to the Foothills Kinettes' Water Tower Park next week! It will provide a variety of fun playground swing experiences for children of all ages and abilities. The Foothills Kinettes' Water Tower Park focuses on offering enjoyable and accessible playground experiences in High River.
Work to install the swing set begins on May 18 and will take approximately two weeks to complete. Motorists are asked to drive carefully by work crews and obey signage during project installation and landscaping.
The Foothills Kinettes' Water Tower Park is located at the corner of 8 Avenue and 3 Street S.E. The park creation, on the site of the Town's former water tower, is a partnership project between the Foothills Kinettes and Town of High River. It is named for the Foothills Kinettes, who carried out community engagement and raised funds for the park's development.
The official opening of the park took place two years ago in June 2019. Phase 1 of the project saw the installation of an accessible play structure and a 71-ft. zip-line – one of the first in Southern Alberta. This community group has once again raised funds towards the accessible swing set representing Phase 2 of the project.
Community groups like the Foothills Kinettes help make High River a vibrant community! Watch for the new swing set completion later this spring.
For more information:
Town of High River
403-652-2110