Work to replace the Sunshine Lake gazebo is underway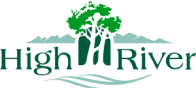 by Town of High River
03/12/2021
Community Parks & Recreation Construction Council
New Gazebo Anticipated in time for the Christmas Holidays

High River - Work to replace the Sunshine Lake gazebo is underway. The new gazebo will be a timber frame structure similar in size to the existing gazebo. If weather cooperates, the new gazebo will be in place in time for Christmas. Scroll down to view a current photo and drawings of the new gazebo.
The trail will be closed beginning December 6 as contractors erect the new gazebo. Residents and trail users are advised to obey signs in place for user safety, and to watch for equipment and workers in the area. Please watch this page and the Town's social media channels for any project updates.
Trail Closure and Detour
Part of the southern walking loop around the lake will be closed beginning next week until the project is completed. Please click here to view a map showing the location of the trail closure and detours in place during this project.
The Sunshine Lake Gazebo Replacement project is part of the Town's approved Capital Project Budget for 2021 and is listed in Town Council's approved 10 Year Capital Plan. The goal is to replace aging infrastructure and ensure high quality amenities are in place that increase enjoyment and use of our beautiful greenspaces.
The total cost of the project is $130,000, funded through Alberta's Municipal Sustainability Initiative (MSI) grant funding, an infrastructure program that supports municipal growth and sustainability.
PHOTOS BELOW
MAP OF TRAIL CLOSURE (PDF)

- 30 -
For more information:
Town of High River
403-652-2110
EXISTING GAZEBO being replaced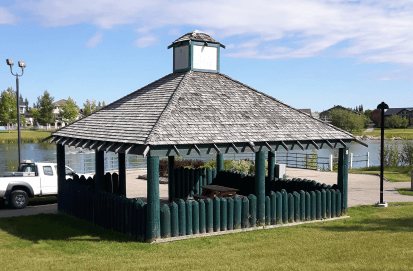 RENDERINGS OF NEW GAZEBO