Visit the New Greater Foothills Family Centre Website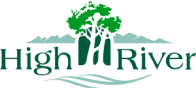 by Town of High River
06/04/2022
Community
New Website Dedicated to Helping Local Families
HIGH RIVER, AB – The new Greater Foothills Family Centre website serves families across a large geographic area, providing easier access to supports and services across hamlets, villages, towns and communities in the Foothills.
Family Resource Networks (FRNs) deliver prevention and early intervention services, and a range of supports that focus on strengthening parenting and caregiving knowledge, social supports and resources, improving child and youth development, building resiliency, and fostering well-being. The Greater Foothills Family Resource Network helps local families by organizing free programs, supports, and services for youth 0-18 and parents and caregivers.
The website enhances the Family Resource Network's 'hub and spoke' service delivery model, coordinating services in all geographic areas and various cultural communities across the province. Featuring a soft colour palette and sweeping curves, it invites users to experience a calm, safe place⁠—it was created for and with families in mind.
Being a parent is both rewarding and challenging, the Greater Foothills Family Resource Network is here to help! Check out the website for more details.
-30-
For more information:
Greater Foothills Family Centre
403-652-8633