Town of High River and Rotary Club Launch Community Pathways Network Project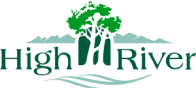 by Town of High River
02/09/2021
Town of High River and Rotary Club Launch Community Pathways Network Project
September 2, 2021
High River – The Town, in partnership with the Rotary Club of High River, is excited to announce the Community Pathways Network Extension Project. In conjunction with the Town of High River's Parks, Trails and Open Space Master Plan, the project will formalize and connect pathways already in use by residents to bridge gaps in the Happy Trails pathway network.
Creating marked and accessible trails for the community, the project will feature amenities such as garbage bins. The upgraded trails will also be safer and more accessible for a variety of users with wider trails and new signage, while keeping the area as natural as possible.
The new pathways will create systems along the Highwood River and through the River Parkway area, connecting the west end of High River to the Northeastern edge of Wallaceville. In support of a healthy urban environment, the goal of the project is to preserve the integrity of the natural area.
Serving as a partner project between the Town and Rotary Club of High River, the Community Pathways Network Extension Project is an opportunity to utilize and enhance our community's natural greenspaces. This type of project aligns with and provides value to the identity of High River, while allowing our community to enjoy our natural environment
The newly upgraded pathways will accommodate activities such as walking, running, biking, snow shoeing and cross-country skiing.
The project is in its first phase, with current work including removing brush and grass, and smoothing and leveling the NW loop and connector trail.
Implementation of Phase 1 of the project has started and will continue to take place over the next month, with Phase 2 of the project expected to be initiated and completed by 2022.
The Town is asking residents to stay off marked trails that are currently being worked on while the contractor finishes up the first phase.
For additional information regarding this project or to view the project plan, please visit us here.
For more information, please contact:
Khalid Mohammed
Manager of Planning and Development, Town of High River
kmohammed@highriver.ca
403-603-3408