Highwood River Status Downgraded to High Stream Flow Advisory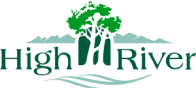 by Town of High River
14/06/2022
Community
June 14, 2022
Highwood River Status Downgraded to High Stream Flow Advisory
HIGH RIVER – The Town of High River's Protective Services Team has been in constant contact with the Alberta Forecast Center over the past few days to ensure the most timely and accurate information is shared with the community.
The river flow levels as of 1:05 are as follows:

Highwood River & Little Bow Canal: 138.76 cubic meters/second. The current river level is 2.548 Meters.
Highwood River at Diebel's Ranch: 62.88 cubic meters/second. The current river level is 1.80 Meters.
The River Forecast Center, in conjunction with Environment Canada, has downgraded the Highwood River at High River from a Flood Watch to a High Stream Flow Advisory.
This change results from a re-evaluation of the current modelling. They are now predicting a peak flow rate of just over 200 Cubic Meters per Second.
A High Stream Flow Advisory means waters may rise, but no flooding is expected. Water may still accumulate in low-lying areas. With this change in status, residents are advised that the heavy rainstorm being monitored is expected to increase the Highwood River level.
Residents are advised to avoid Beachwood, Wallaceville and the Mercer Lands due to possible elevated water levels. These areas are considered a flood plain and part of the Town's Flood Mitigation Plan.
We know this may be a stressful time for many High River residents and would like to assure everyone that there is no immediate danger of flooding. The Town's Emergency Operations Center will continue monitoring conditions of the river around High River and will provide updates as we receive them.
Residents experiencing anxiety and would like to talk to someone by phone or in-person are encouraged to call or visit the Family and Community Support Services (FCSS) Resource Centre.
The Resource Centre is now located beside the Charles Clark Medical Centre in the former 'Culture Centre.' Staff are there to talk, the coffee is on, and staff have access to up-to-date information from trusted resources. The office is open from 8:00 – 4:30. Please stop by (251 – 9th Ave SW) or call 403-652-8620.
For after-hours emotional support, please consider the following:
AA Hotline (24 hr): 403-777-1212
Access Mental Health: 403-943-1500
Crisis Text Line (24 hr): 686868
Distress Center (24 hr): 403-266-4357
Health Link: 811
Kid's Help Phone (24 hr): 1-800-668-6868
Mental Health Help Line (24 hr): 1-877-303-2642
Questions?
If you have questions regarding the 2022 High Water Level, you are welcome to call the Town's Protective Services Team at 403-603-3457.
Protective Services will remain engaged with Environment Canada, the River Forecasting Centre, and the Provincial Operation Centre to ensure timely and accurate information is shared with the Town.
Stay tuned to our social media and for river updates in the coming days.
-30-
For more information:
Town of High River
403-652-2110