Cycling Without Age Commemorates the Passing of a Special Volunteer and Reflects on a Successful 7th Season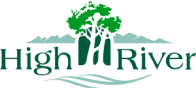 by Town of High River
15/11/2023
Community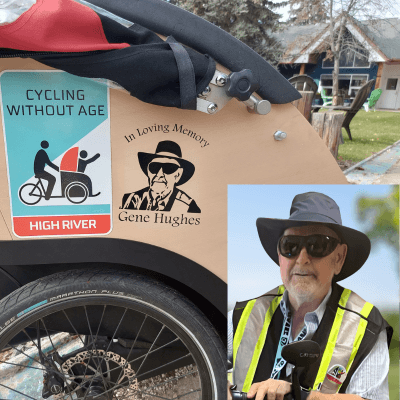 Volunteer Pilots for the Cycling Without Age (CWA) program gathered on October 27 to reflect on their 7th season. The group celebrated taking 270 passengers on 158 rides from May to October. At the same time, it was a bittersweet gathering as they reflected on the impact of one very special volunteer, Gene Hughes, who passed away in August. Gene was a memorable and recognizable volunteer with the CWA program since the High River chapter first opened in 2017 and served until his unexpected passing.
Gene will be remembered by the many passengers he took out over the years for his joyful attitude towards life and quick jokes, always at the ready. He was always willing to pick up a ride and was always there with the right tools and know-how to assist in keeping the tri-shaws in good running order. He was especially well known on the 2nd floor of the Hospital, where he took residents and their families out for weekly rides.
The CWA program runs with the help of volunteer pilots who contribute to passengers' social and emotional well-being through rides on electric pedal-assisted passenger bikes, connecting people back with the outdoors and their community. In honour of Gene's ongoing commitment to his community through CWA, one of the tri-shaws has been dedicated to his memory.
The Town would like to thank all the volunteers, contributors, partners, and the community for continuing to make this special program a success. Your generous giving shows that this Town truly puts people first:
2023 Volunteer Pilots – Gene Hughes, Ann Cadrin, Dave Holowaychuk, Luella Wojcik, Jon Henry, Brenda Walsh, Pavel Savin, Linda Tolman, Mai-Ann Sprung, and Wayne Austen.
Pilot Captains – Rick Green, Cheryl Kendall, Ron Kendall, and to our Pilot Captain and Bike Mechanic, Bruce Beauchamp, who ensures the bikes stay on the road!
Highwood Golf for donating storage space to serve our NW Community.
Cycling Without Age site partners:

High River Hospital Recreation Therapy team and 2nd-floor staff and volunteers
Medicine Tree Manor
Seasons Retirement Community
Abbeyfield House Society
The many community partnerships nurtured through this program are especially meaningful for residents who enjoyed the rides this season. Your contributions help ensure everyone can experience the joy of 'the wind in their hair.'
-30-
For more information:
FCSS Resource Centre
403-652-8620