Bat houses have been installed in Northwest High River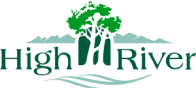 by Town of High River
30/03/2023
Parks & Recreation
High River – You may have noticed that Bat Houses (Bat Boxes) have been installed in the Town's Northwest to help encourage new roosting locations for the small mammals.
Residents in the area have reported bats roosting in their entry ways of homes. To help with the issue Town Staff has installed 4 permanent Bat Houses. The structures give bats a place to rest during the day when they're not active. They are set on 3.6-meter poles facing SE/SW along nature bands approximately 10 meters away from pathways.
It can take up to two years for bats to move roosting locations but Town Staff is hopeful the bats will choose to relocate to the new bat houses sooner. Staff are currently exploring the possibility of installing more bat houses in other areas of Town to help support bats in the area.
If you would like to learn more about Bat Houses in Alberta, you can visit the Alberta Community Bat Program website.
-30-
For more information:
Town of High River
403-652-2110