Town Sharing Holiday Safety Tips to Help Guarantee a Joyful Holiday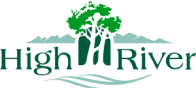 by Town of High River
20/12/2022
Community
Town Sharing Holiday Safety Tips to Help Guarantee a Joyful Holiday
HIGH RIVER – From Christmas trees to home decorations and candles to kitchens - small steps can prevent a holiday accident or worse. With the holidays rapidly approaching, the below tips can help ensure your family has a safe and joyful holiday this year.
Oh, Christmas Tree!
If you are choosing a real tree for this year's holidays, follow these tips!
Ensure the tree has green, fresh needles and is kept well watered.
Keep all trees at least 3 feet away from any heat source, and be sure the tree is not blocking any exit.
Check lights to ensure they are in good shape, not frayed and safe for indoor use.
Do NOT use real candles on your tree.
Don't overdo connections! Check instructions and replace any lights in disrepair.
Lights and Decorations!
Indoor holiday lights add so much joy at this time of year! Especially when done safely!
Use lights that are listed by a qualified testing laboratory (CSA). Some lights are only for indoor or outdoor use.
Replace any string of lights with worn or broken cords or loose bulb connections.
Never use candles to decorate the tree.
Family Safety
The best part of any holiday season is the quality time spent with family and loved ones. Make sure your family is safe this holiday season!
Keep children and pets away from lit candles and safely hide those matches and lighters.
When cooking, stay close to the oven or stovetop and have a working fire extinguisher handy.
If there are any smokers in the home, provide large, deep ashtrays and WET the cigarette butts before tossing them in the trash.
Smokers could step outside for extra safety – and keep smoking materials up high and away from children and pets.
Ice Emergencies
The winter brings fun activities like hockey, ice skating, ice fishing and more. When temperatures fluctuate, venturing onto the ice on any body of water can be fatal. If you fall in or witness an emergency, call for help and dial 9-1-1! Trying to climb out can break weak ice around you. Facing the shore, reach forward and kick your legs too out horizontally. Carefully try to crawl up on your stomach, then roll away from the open area with arms and legs spread wide to distribute your weight. Rescuing another person from ice can be dangerous. It's best to wait for trained professionals to arrive or wait for help from other bystanders. Working together, try to extend a rope, pole, or branch from shore. Only go on the ice if wearing a flotation device.
For more information on holiday safety, including information on ice safety, Christmas trees and how to deal with extreme cold, please visit highriver.ca/seasonal-safety.
- 30 –
For more information:
Town of High River
403-652-2110