Bear Sighting in Wallaceville Area - Exercise Caution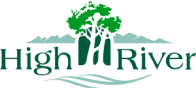 by Town of High River
11/10/2023
Community Parks & Recreation
HIGH RIVER - A black bear sighting was reported today in the Wallaceville area by work crews just northeast of the Centre Street bridge. We are advising residents to exercise caution as bears may still be in the vicinity as they search for food at this time of year. Your safety and the well-being of the local wildlife are of utmost importance. By taking the right steps, wildlife can move through the area without unfortunate incidents that can result from surprise or confrontation.
Important Caution: We have observed several instances of dogs off-leash in areas within town that are not designated for off-leash activities. It is important that you keep pets under control as loose dogs can potentially escalate the risks associated with bear encounters. Please heed this warning and ensure your pets are leashed and safe at all times.
Recommended Safety Measures:
Leash Your Dogs: In light of this bear sighting, we strongly advise all dog owners to keep their pets on a leash when in the area. Unleashed dogs can pose a risk to both bears and the public and can inadvertently bring an angry bear back to their owners.
Avoid Direct Contact: If you encounter a bear, do not approach it. Keep a safe distance, back up slowly, raise your arms and anything you may be carrying to look big and make loud noises to deter the bear from approaching you. Do not run. Carrying bear spray and knowing how to use it is advised if you are on trails in less inhabited areas. *This is not the time to take photos or video. But do use your phone to call 9-1-1 in the event of an emergency.
Report Sightings: If you spot a bear within town, please report the sighting immediately to the 24/7 "Report a Poacher" hotline at 1-800-642-3800. This line can be used for other urgent wildlife matters. Timely reporting will help wildlife authorities track the bear's movements and ensure the safety of the community.
Secure Garbage and keep decks clear of pet food; clean up fruit and gardens: Consider making your own yard less attractive to hungry bears. Things like keeping your trash in a garage or shed until the day you put it out for pick-up, not leaving Fido's food outside, and clearing up remaining edibles from your yard can keep bears moving along.
Your cooperation is essential in maintaining the safety of our community and preserving the well-being of local wildlife. We appreciate your understanding and responsible actions during this time.
- 30 -
For more information:
Alberta Fish and Wildlife Report a Poacher - Wildlife Hotline 24/7
1-800-642-3800
Town of High River
403-652-2110