Centre Street Bridge Repairs Scheduled for October 20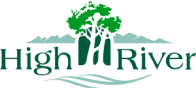 by Town of High River
18/10/2023
Construction
On Friday, October 20, work crews will be repairing the expansion joint of the bridge to address the 'clanking noise' that can be heard as people drive across the bridge.
Shorter days, coupled with the extent of the repairs, means that work cannot be scheduled in the evening. Every effort will be made to complete the repairs promptly; the work should be completed by the end of the day.
These repairs will wrap up the Centre Street Bridge Rail and Bearings project that was completed in 2022.
Here's what to expect on October 20:
Work will begin AFTER the morning school traffic rush
There will be single, alternating lane traffic during the repairs
Flaggers will be in place
Work will be completed by the end of the day
We appreciate your patience and cooperation during this disruption as we strive to maintain the safety and reliability of the bridge. Safeguarding the well-being of both our work crews and residents is our highest priority.
*We will advise the community as soon as possible if there are any delays or changes to the scheduled work.
- 30 -
For more information
Town of High River
403-652-2110