Flood Debris Clean-Up Project Begins with Boulder Placement on Happy Trails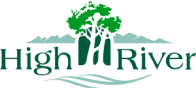 by Town of High River
06/10/2023
Community Construction
HIGH RIVER - Work crews will be placing boulders at regular spacing along the east side of the Happy Trail pathway along Centre Street and 1 Avenue N starting today, Wednesday, October 4. This work is part of the Flood Impacted Debris Clean-up project. Boulders will prevent vehicle access into the restored area. There are no expected impacts to trail use - please be aware of the work for your safety in the work area.

View a map showing the location of Boulder Placement along Centre Street

As part of the final steps to restore former flood-affected areas to a natural state, crews will also carry out general area clean-up, fencing, tree protection, and plantings in the former Wallaceville, Rio Vista and Beachwood lands (see links below to locations). Please watch for crews at work in these areas and obey any signs in place for your safety.
This work will result in improved/enhanced fish and wildlife habitat under the Watershed Restoration and Resilience Program (WRPP).
Council approved the budget for this work, which includes significant grant funding related to riparian habitat restoration and enhancements.
Read more about this work in the report to Council during their September 11 Regular Meeting.
Who: Contracted work crews
When: Starting Wednesday, October 4, 2023 onward
Where:
- Boulder placements: former Wallaceville (view the map)
- Other work to restore flood-affected areas of
Wallaceville (northeast of the Centre Street bridge),
Rio Vista (south of the golf course) and
Beachwood (area accessed from 12th Avenue SW, west of the turn circle).

What: Clean up of debris and installation of boulders along Centre Street adjacent to Wallaceville
Why: Final work to naturalize former Flood affected areas including former Wallaceville, Rio Vista and Beachwood lands
- 30 -
For more information:
Town of High River
403-652-2110