Heavy Rainfall Expected Week of June 13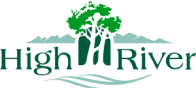 by Town of High River
11/06/2022
Community
Heavy Rainfall Expected Week of June 13
HIGH RIVER – The Town of High River's Protective Services team was advised at 4:02 PM, June 11, by the River Forecast Center, of a heavy rainfall event expected to bring rainfall to Alberta Monday through Wednesday.
The province will be analyzing data to create models that will more closely predict the amount of rainfall expected.
Currently, the highest amount of rainfall is expected to fall in the upper Bow and Red Deer Basins, with amounts of 80-100 mm possible. The rain/snow line is currently forecast to be at 2400 m.
If this forecast materialized, it would result in high flows in watercourses in the Bow Basin and Red Deer Basins, which may reach or exceed bankfull conditions. However, there remains considerable uncertainty at this time.
Protective Services will remain engaged with Environment Canada, the River Forecasting Centre, and the Provincial Operation Centre to ensure timely and accurate information is shared with the Town.
The Town of High River has completed our annual flood preparation plan and is prepared for any risk.
Stay tuned to our social media and highriver.ca/flood-protection for river updates in the coming days.
-30-
For more information:
Town of High River
403-652-2110