High River Fire Department to Begin Training on New Ladder Truck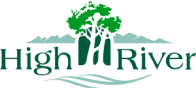 by Town of High River
04/04/2022
Community Maintenance
High River Fire Department to Begin Training on New Ladder Truck
HIGH RIVER – In late 2021, Town Council approved the purchase of a replacement ladder truck for the High River Fire Department (HRFD).
Currently, the HRFD has been operating the same ladder truck since 2001. This truck has served our community very well over the past 21 years, but as our community grows, so does the need for proper fire fighting equipment.
The new Ladder truck is a 2020 Pierce 100-foot ladder platform truck that gives the department an extended aerial reach of 25 feet and an increase in pump capacity of 950 gallons per minute.
The updated truck is equipped with a 2000 gallon per minute pump, allowing an increase in water flow in the case of larger fires. One of the other significant upgrades is the work platform equipped at the end of the ladder. The platform allows our firefighters to discharge water from up to 100 feet and increase the department's rescue capabilities.
With the truck now in place at the HRFD, fire staff will begin training on the use and operation of the new vehicle. The new ladder truck will be in service by the end of April after staff complete the required training.
The new ladder truck will provide our fire department with the latest technology and safety features to help keep our community safe. This new truck will remain in service to the community for the next 20 years.
For more information on the High River Fire Department, please visit highriver.ca/fire-department.
-30-
For more information:
Town of High River
403-652-2110