High River Honours National Truth and Reconciliation Day September 30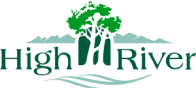 by Town of High River
21/09/2023
HIGH RIVER - At their regular meeting on September 25, High River's Town Council will wear orange shirts to acknowledge National Truth and Reconciliation Day which occurs on September 30. Also known as Orange Shirt Day, this day commemorates the history and legacy of residential schools and affirms the concept that "Every Child Matters."
"In keeping with our People First priority, High River is committed to recognizing and honouring the rich and diverse cultures, experiences and contributions of Indigenous people to the fabric of our community," said Mayor Craig Snodgrass. "We invite everyone to join us by wearing orange shirts on September 30, tying an orange ribbon to a tree or fixture in front of your home or business, participating in planned events or honouring this day in your own way."
On Friday, September 29 the official "Every Child Matters" orange flag will be raised at Town Hall, and Town flags will be lowered to half-mast to honour National Truth and Reconciliation Day. Town staff will take part in Indigenous Awareness training on September 27, with temporary facility closures to ensure all staff can participate.
The date will be commemorated in many ways across Canada and in High River, including:
September 25 – 29 check out the Greater Foothills Family Center Facebook page for special articles, videos, and resources about Orange Shirt Day and National Truth and Reconciliation
On Thursday, September 28 in the morning - the Family Centre will have crafts, stories, and giveaways planned in honor of National Truth and Reconciliation. Please note the Family Centre will be closed on Saturday, September 30
Click here to read about temporary Town facility closures on September 27 and 28 for Indigenous Awareness Training and an all-staff meeting.
The Town's Parks and Recreation staff and other Town staff will wear Orange Shirt Day shirts in the coming week and on September 30.
Find more information about the meaning of Orange Shirt Day and National Truth and Reconciliation Day in Canada by visiting the links below:
- 30 -
Media Contact:

Craig Snodgrass, Mayor
Town of High River
403-652-2110
csnodgrass@highriver.ca

Resident Questions:


Town of High River
403-652-2110