High River Snow and Ice Control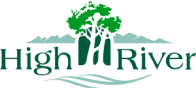 by Town of High River
10/12/2021
Community Maintenance
High River Snow and Ice Control
HIGH RIVER - Snow season is around the corner, and the Town of High River' Public Works staff are ready to take action to keep our roads and pathways safe and clear. We would
like to share our snow and ice control plan with residents to let you know what to expect this winter.
As soon as snowfall occurs, the Town begins preparations to sand, salt, plow streets and move snow from roadways and pathways.
The Town operates four plow units, three loaders and a grader to clear snow based on a priority system. This priority system ensures our highest traffic roadways are cleared first.
Priority 1 roads (Cleared within 24 hours of a snowfall):
Former Highway 2A within Town limits, including Centre Street and 12th Avenue.
Major roads that carry over 5,000 cars per day.
Designated emergency routes.
Downtown business core.
Joint Administration building and Bob Snodgrass Recreational Complex parking lots.
Regular school bus routes.
Priority 2 roads (Cleared within 48 hours):
Areas reported by RCMP.
Intersections, corners, hills, school zones, and playground zones.
Remaining Town Facilities.
Happy Trail network.
Priority 3 routes includes all other residential areas. These routes will be cleared on an as needed basis once Priority 1 and 2 routes are cleared.
Remember to be a Good Neighbor! To keep walkways safe, all businesses and residents are responsible for clearing snow and ice from privately owned sidewalks, walkways, parking lots and vacant properties within 24 hours of a snowfall. If you know of anyone who needs help, High River has a Snow Angel Program and volunteers are appreciated!
Our crews work hard to clear snow as quickly and efficiently as possible. You can help plow operators stay on schedule and move quickly by parking your vehicle off the street while roads are being cleared.
For more information about High River's snow and ice control plan, please visit highriver.ca/snow-ice-control. Please follow our social media accounts to stay up to date on snow clearing progress.
Facebook - Town of High River
Twitter - @TownOfHighRiver
To report a concern, please visit highriver.ca/report-a-concern contact Town Operational Services at 403-652-4657.
-30-
For more information please contact:
Town of High River
403-652-2110