Let's Work Together to Keep Storm Drains and Catch Basins Free of Pollutants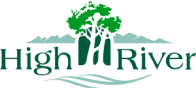 by Town of High River
05/10/2023
Community
HIGH RIVER - Storm drains and catch basins serve an essential role in managing the flow and build-up of rainwater and snowmelt runoff, preventing local street flooding or back-up. They are not designed for the disposal of any other substances or materials. Our stormwater drainage system is directly connected to our local river, canal, and lakes. The health of these natural water bodies relies on the care we take with the water that flows into them.
It is everyone's responsibility to protect our water bodies and maintain a clean, safe community.
Unfortunately, we sometimes see unacceptable substances released into the drainage system that can cause environmental harm. Pouring paint, chemicals, oil, or any other hazardous substances into storm drains not only harms our environment but can also have legal consequences. These incidents are stark reminders of the importance of responsible waste disposal.
To summarize, here's what you should keep in mind:
What IS Acceptable:
Rainwater and snowmelt runoff.
Clean water.

What is NOT Acceptable:
Paint, chemicals, oil, or any hazardous materials.
Dirt, oil, or cleaning soaps and fluids used for washing vehicles.
Yard waste or debris.
Trash and litter.
Anything other than rainwater or snowmelt.
People often ask about washing vehicles in their driveways. We recommend using a commercial car wash as water is discharged to the wastewater treatment facility. Even biodegradable soaps cause harm to living things in the river. To rinse your vehicle in your driveway, use only water and make sure dirt or oil from your vehicle does not get washed down the storm drain.
The Town follows a strict de-chlorination process before discharging any water into the storm drainage system. All wastewater is cleaned and treated before being released into Frank Lake.
Let's work together to keep our storm drains and catch basins free from pollutants. By doing so, we ensure the continued health and beauty of our natural water bodies and contribute to a cleaner, safer environment for everyone.
To learn more, visit Alberta's Storm Water Management Guidelines. Thank you for your cooperation and understanding.
- 30 -
For more information:
Town of High River
403-652-2119