New Residents Welcomed to High River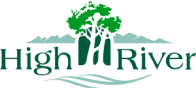 by Town of High River
26/02/2021
Community
New Residents Welcomed to High River
February 26, 2021
HIGH RIVER, AB: A virtual meeting was held on Tuesday, February 23, 2021 to welcome residents living in newly annexed areas to the Town of High River. The annexations, which came into effect on January 1st, includes properties on 112th Street East and in the Red Tail Rise subdivision.
Mayor and staff attended the virtual meeting to welcome new residents to the community and provide key information to help them become familiar with Town staff, council, organizational processes, and community support resources.
The topics covered ranged from how to set up a utility account, to applying for permits, to how annexation into the Town will impact land use and property development.
The Town will be sending out a summary of the information discussed to residents of the annexed lands who were unable to attend Thursday's virtual meeting.

For more information please contact:
Town of High River
403-652-2110