Poplar Tree to be Removed from 2A Ave SW for Public Safety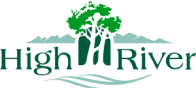 by Town of High River
23/01/2023
Community
HIGH RIVER – At its meeting on January 23, High River Town Council approved the removal of one large poplar tree that could pose a risk to people and property. The tree is in the back lane of 2A Avenue S.W.
A tree risk assessment was performed on the tree by the Town and by a horticultural expert. It was found to have a history of limb loss and shows signs of decay and frost cracks. The tree could fail even in normal weather conditions, posing a serious risk to people and property.
An adjacent poplar tree was also assessed and found to be a low risk. This tree will see some pruning to reduce limb length and reduce the possibility of future problems. It will continue to be maintained and monitored by the Town's Parks staff, who will note if there are any changes to the tree's health and structure.
Parks and Recreation staff care for trees within High River following recognized Urban Forestry Standards, with all tree management and maintenance outlined in the Town's Tree Management Policy. Following this policy, the trees may be replaced at the same location or in another area depending on location and whether conditions are acceptable for new planting.
Residents, business and nearby properties will be advised when the tree, including the stump, is removed. Pedestrian and traffic direction will ensure safety during the removal operations.
- 30 -
For more information:
Town of High River
403-652-2110