High River Pump Track Officially Open!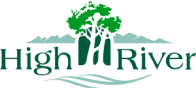 by Town of High River
18/10/2022
Community Sports & Fitness
This media release was originally shared by Freshly Pressed on behalf of the High River Bike Park Society

HIGH RIVER - The Town of High River in association with the High River Bike Park Society is thrilled to announce the opening of the High River Pump Track!
Bike, skateboard and scooter enthusiasts of all ages are invited to try out High River's very own pump track. The park was officially opened October 7th, riders can enjoy it as long as it's clear of snow and ice.
Mayor Craig Snodgrass conveys his appreciation: "The Town has been happy to support this community-led initiative. Congratulations to everyone involved on the completion of this project. The pump track is a great addition to our community. Thanks to the volunteers and everyone involved."
Pump Track chair Jeff Hamilton would like to express his appreciation to everyone that contributed to this project: "This project was truly community-powered, we could not have done it without every single person, business and organization that contributed to making this a fun place for kids & adults alike to enjoy."
Helmets and all required safety equipment will be mandatory for all track users. Additional information will be posted through the High River Bike Park Society's official social media channels.
The High River Bike Park Society is a team of local volunteers dedicated to bringing a world-class pump track to our town through a combination of corporate and community-driven grassroots fundraising.
Media Contact:
Ashleigh Baron
Marketing Committee Chair
High River Pump Track
ashleigh@freshly-pressed.ca
(403) 616-3716