River Flow Update & Town Staff to Monitor and Clean Fallen Trees, Branches & Debris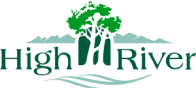 by Town of High River
14/06/2022
Community
June 14, 2022
PUBLIC SERVICE ANNOUNCEMENT
River Flow Update & Town Staff to Monitor and Clean Fallen Trees, Branches & Debris
HIGH RIVER – The Town of High River's Protectives Services team was advised at 3:15 PM, June 14, by the River Forecast Center that a significant portion of the storm has passed. Based on this, we do not anticipate any further significant river flow increases. We anticipate river flows NOT exceeding much over 200 Cubic Meters per Second. We may still see some small increases tonight and throughout tomorrow.
The current river flow levels as of 8:05 PM are as follows:
Highwood River & Little Bow Canal: 147.37 cubic meters/second. The current river level is 2.620 Meters.
Highwood River at Diebel's Ranch: 79.84 cubic meters/second. The current river level is 1.874Meters.
Currently, our Protective Services team is monitoring the river and will continue to stay in contact with the River Forecast Center. The Highwood River at High River will remain at High Stream Flow Advisory for the time being, and residents will be notified of any change to the status.
Our Protective Services, Public Works, Parks and Rec staff, and the local RCMP have also been responding to falling trees, branches, and debris around Town.
At this time, the Town of High River has temporarily closed George Lane Park and asks all public to remain out of the park until further notice.
Emergency crews along with Parks and Recreation staff and contracted arborists have been deployed to assess the damage to affected town-owned trees and begin cleaning debris from the roads and pathways around Town. Residents can expect to see Town staff cleaning debris for the next few days.
Please note, residents may notice some of the new trees planted around town leaning over or on the ground. Town staff is aware of these trees and crews will work to replant the trees in the coming days.
Our crews have been trained for these emergencies and will respond appropriately. Updates will be provided to the EOC regularly and shared on highriver.ca and the Towns Facebook page.
Please stay tuned to our social media and highriver.ca/flood-protection for updates on the extreme wind and river flows.
-30-
For more information:
Town of High River
403-652-2110