Town of High River Sharing 2023 Wildfire Assessment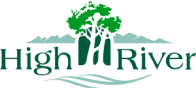 by Town of High River
05/05/2023
Community
HIGH RIVER – The Town of High River has successfully completed a Wildfire Hazard Assessment for our community using $15,000 in grant funding from Alberta's Forest Resource Improvement Association.
The assessment was completed during peak wildfire hazard season and looked at past wildfire activity within the Town, values at risk, and wildfire fuel loads around the community. The hazard zones were mapped out and identified based on risk levels.
Risk Levels:
Low risk - the grass is maintained and kept short.

Little chance of a wildfire.
Moderate risk – unmaintained native grass or crop/stubble

Chance of surface fire, with only a few small spot fires (spot fires occur when embers land on the unburned side of a fire line).
High risk – sites are full of deciduous trees/shrubs (shed foliage annually), native grass, and dead/downed vegetation,

Can lead to large flames and short-range spotting (burning embers that can be moved by wind or thermal currents).
The assessment identified areas at each risk level within our community. Over the coming months, the Towns Fire and Protective Services team will work through the 2023 Wildfire Hazard Assessment to determine the best hazard reduction methods.
As our team begins assessing the hazard areas, plans will be developed to reduce the wildfire risk. Some mitigation efforts may include:
Controlled burns
Vegetation management
Mowing and maintenance of long native-grass
Clearing of down/dead vegetation in high-risk areas
Public Education
Upon completing a Wildfire Hazard Mitigation Plan, our Protective Services team will report to the Council for further direction. Updates will be provided to residents via highriver.ca/news and our social media channels.
Residents can view the 2023 Town of High River Wildfire Hazard Assessment by clicking HERE.
If you have questions regarding the 2023 Town of High River Wildfire Hazard Assessment, please join us on Saturday, May 6, from 11 a.m. to 2 p.m. for an Emergency Preparedness Open House at the High River Fire Hall.
-30-
For more information:
Town of High River
403-652-2110