Residents Advised of Actions Underway as Town Prepares for Anticipated Heavy Rainfall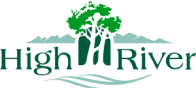 by Town of High River
13/06/2022
Community
HIGH RIVER – At 10 am this morning, the Town of High River held an Emergency Operations Team meeting, bringing staff together to ensure the Town is well prepared for the coming days. There is currently a flood watch for the Highwood River.
There is no flood watch currently for the Town itself, however this is an evolving situation, and we will keep residents informed with regular updates. Please stay tuned to local media and the Town's website and social media for ongoing updates.
As the Town rolls out its flood preparedness action plan, please be advised of the following activities taking place around our community. Many are precautionary measures. In the event of a local emergency, Alberta Emergency Alerts will be sent to all wireless devices.
Actions Underway:
In the event the Highwood River levels rise to between 300 – 400 cubic meters / second, Centre Street Bridge WILL BE CLOSED to traffic and pedestrians. This may occur with short notice. Please watch our social media channels for timely updates.
At 11:30 am on June 13, Highwood River at Diebel's Ranch river flow was recorded at 42.86 cubic meters/second. The Highwood River flow during the 2013 flood was 1820 cubic metres / second.
River flow rates and updates on river monitoring are being provided regularly. Please visit the Flood Protection web page or follow social media for these updates.
Crews will be setting up pumps throughout town at locations where there is known pooling of water on streets. During heavy rainfalls, there may be some pooling at storm catch basins. Crews will monitor and work to mitigate this.
Some trails and open spaces will be closed if required for public safety. Please follow the Town's social media and website for updates.
Other activities around town will be underway as staff prepare precautionary measures during the next few days.
Please help us by observing the following safety measures:
Stay away from riverbanks
Avoid trails in the Mercer, Wallaceville and Beachwood areas. These are flood plains designed for high water events.
Be cautious on berms if you are trying to see the river or take photos and video.
Do not stand on the Centre Street Bridge to observe the river – crews will need the bridge to remain clear of pedestrian traffic to do their work.
Stay tuned to local media, the Town's website and social media for ongoing updates.
Review information on the Town's website about the stages of river monitoring, how to prepare and actions to take should a flood warning be announced.
Subscribe to Town News and receive updates to your email inbox. Click here, then choose 'Subscribe Now.'
Peak rainfall impacting river flows is expected by Tuesday evening. At this time, there may be a noticeable rise in the river. Fire and Protective Services is working closely with Rivers Alberta and the provincial monitoring specialists. We will keep the community informed regularly through ongoing river monitoring updates.
The Town of High River is one of the most flood-protected communities in North America. Click here to view the Flood Mitigation System Map.
- 30 -
For more information:
Town of High River
403-652-2110
Media Contact:
Craig Snodgrass, Mayor – Town of High River
csnodgrass@highriver.ca
403-652-2110
Or contact communications@highriver.ca