Town Tree Replacement Project Continues Through June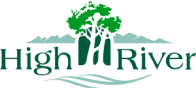 by Town of High River
27/05/2022
Community Parks & Recreation
Tree planting will begin in earnest tomorrow, with workers starting in the Mercer and Beachwood areas early morning.
There will be minimal impact on traffic, with workers, trucks, and signage to inform residents. 5 Star Trees LTD, the company that successfully bid for the initiative, will carry out the work.
Residents can expect to see tree planting happening throughout June in various locations across Town. The company will plant 1,626 trees, and they will be varieties suitable to the High River region, including poplar, spruce, pine, willow, and others.
The re-establishment of vegetation and trees is crucial for the Town's flood recovery journey. This initiative is part of the Southern Alberta Flood Response program currently underway throughout the Town.
Tree planting locations are geographically spread out in parks and natural areas, including but not limited to George Lane Memorial Park, Riverside Crescent, Tree Memorial Park, Sunshine Lake, Hamptons, Town Farm, Montrose Pond, Stang Park, Highwood Lake, CP Lands, Cemetery Lands, Mercer Lands, and Wallace Ville. The soil types at the Hampton location may require tree pits when planting the trees.
The Town aims to complete the Tree Replacement Initiative this Spring.
-30-
For more information:
Parks and Recreation Division
403-652-4042