"Welcome Home" Video to Fox Creek From High River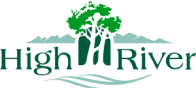 by Town of High River
24/05/2023
Community
HIGH RIVER AB - In May, 2023 during an unprecedented fire season, the Town of High River Fire and Protective Services and other staff worked alongside and provided leadership to the first responders, volunteers and other agencies who responded to assist with the Fox Creek Wildfire. As of 12:00 pm, May 24, 2023, the evacuation for the Town of Fox Creek is lifted and community re-entry can now occur safely.
High River's Deputy Chief of Emergency Services Steve Debienne was called by the Alberta Emergency Management Agency to Fox Creek as a Structural Protection Specialist. In a video shared with the Town of Fox Creek, he talks about the experiences of those who worked together to battle this fire and help residents return to their community.
"High River was able to give back and help in this emergency, just as so many gave to our community during the flood in 2013," says High River Mayor Craig Snodgrass. "We are happy that our knowledgeable fire crews, staff and specialists could provide aid in this emergency."
- 30 -
For more information:
Town of High River Communications
communications@highriver.ca