Town of High River Crews Assisting Unprecedented Provincial Fire Emergency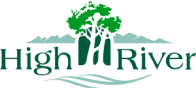 by Town of High River
08/05/2023
Community
HIGH RIVER AB – Crews with the Town of High River's Fire and Protective Services are deployed to assist with the current provincial fire emergency, receiving the call late Friday afternoon. The Town's Deputy Chief of Protective Services, Steve Debienne, was requested by the Alberta Emergency Management Agency (AEMA) to provide his expertise and support as a structural protection specialist.
"In this unprecedented situation, our members are proud to provide this support and assistance on behalf of the Town," notes Chief of Fire and Community Safety Cody Zebedee. "Our members view it as a way to pay it forward for the assistance High River received during the flood emergency of 2013."
Crews were deployed on Friday at 4 p.m. Below is a timeline of assistance being provided:
May 5
• 4 p.m. crews deployed to the Town of Edson and Emergency Manager Steve Debienne deployed as a structural protection specialist by AEMA.
• On the evening of May 5th an Engine was requested for the Town of Edson; the Engine departed with four crew members.
May 6
• Shortly before noon High River crews were re-deployed from Edson to assist at Fox Creek
• Deputy Chief Steve Debienne requested to develop structural protection plans to protect the community and critical infrastructure.
Crews remain in Fox Creek, working along side other fire departments to protect the community and infrastructure. Later today the Town anticipates hearing more about the fire situation. This will determine if current crews will be transitioned out and if new crews are being deployed,.
Updates on the fire situation can be found online and by downloading the Alberta wildfire app and the Alberta Emergency website and AEMA App, and following updates provided regularly by the Provincial emergency team and on the Alberta Emergency and Public Safety web page.
Recent rain in this area helped lower the risk in our area for now. Residents are reminded to continue to follow safe burning practices. The Town remains protected with two Engines, a ladder truck, wildland truck and water tender.
- 30 –
For more information:
Town of High River
403-652-2110