Town Monitoring Spring Snowpack – No Concerns So Far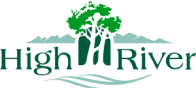 by Town of High River
05/05/2023
Community
HIGH RIVER AB – Each spring, the Town of High River monitors conditions as snow begins to melt at higher elevations, sending water into the Highwood River. Weather forecasts to monitor for rainfall are also underway. So far spring of 2023 is showing average to below average range for snowpack in the mountains in our river basin, however monitoring will continue through to the end of June.
Regular updates for the High River community will be shared every Friday beginning May 12, 2023 - watch for them on...

Official Town website and social media channels
Bulletin boards around Town
On garbage trucks signs later this month
Local newspaper and radio
If there is a change in status from normal to a high stream flow advisory, the community will be updated immediately.
The Town's Fire and Protective Services team has been preparing for this time of year by organizing staff training, partner meetings, and carrying out annual inspections of the dikes and the flood gate.
"This spring we are also monitoring weather conditions – not just for rain – but for the possibility of dry conditions and fire hazards," adds Chief Zebedee, adding, "Please practice safe burning in these dry, warm conditions."
Emergency Preparedness information will be on display at an Open House May 6 at the Fire Hall from 10 a.m. to 2 p.m. Town staff and emergency partners will be on hand to answer questions and refreshments are available.
- 30 –
For more information:
Town of High River
403-652-2110