Update June 13, 2022 - High River Moving to Flood Warning Stage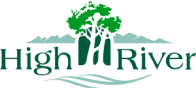 by Town of High River
13/06/2022
Community
High River Moving to Flood Warning Stage

HIGH RIVER – The Town of High River's Protective Services team was advised at 3:38 PM, June 12, by the River Forecast Center, who is modelling an incoming rainstorm expected to increase the Highwood River level. Please continue to monitor regular updates on our Flood Protection page and by following the Town on social media.
At this time, the Alberta River Forecasters are issuing a Flood Warning for the High River area.
Residents may notice overland flooding north of Centre Street Bridge and the Lineham Canal in the coming days. This area is a part of the flood plain and is included in the flood mitigation plan.
Currently, the River Forecast Center is modelling peak flow rates between 400 and 700 cubic meters per second. For context please note the 2013 flow was estimated at 1,820 cubic meters / second.
The peak river flow is expected to happen between the evening of Tuesday, June 14 and the morning of June 15.
The River Forecast Center will be working to refine the model further overnight. A more accurate prediction will be provided tomorrow, June 14.
Crews are setting up pumps throughout the Town at locations where there is known water pooling on streets. During heavy rainfalls, there may be some pooling at storm catch basins. Crews will monitor and work to mitigate this.
Other activities around Town will also be underway as staff prepare preventive measures during the next few days.
Since 2013, the Town of High River has invested over $400 Million in mitigation and re-building to protect our community from high water events:
Approximately $210 million on mitigation including dikes, bank armouring, flood gates, floodway for overland flow, riparian storage and other projects.
Over $200 million on rebuilding including the downtown, underground infrastructure, roads, parks and other projects.
Some of these projects include:
Completion of thirteen dikes in different locations around High River
Removal of the CP bridge
Riverbank armoring in seven locations around Town, including Eagleview and Centre Street Bridge
Various outfall improvements
Installation of audible alarm towers
Installation of a flood gate
The Town of High River is confident in the mitigation upgrades made to our community and is ready for any risk.
Protective Services will remain engaged with Environment Canada, the River Forecasting Centre, and the Provincial Operation Centre to ensure timely and accurate information is shared with the Town.
Stay tuned to our social media and highriver.ca/flood-protection for river updates in the coming days.
-30-
For more information:
Town of High River
403-652-2110