Town Responding to Winter Storm – Reminders to Stay Safe and Be Patient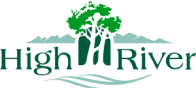 by Town of High River
02/11/2022
Community
HIGH RIVER – Winter has descended on Alberta with a snowfall warning issued for a large part of the province continuing throughout the day. The Town of High River is responding and will continue work to keep our roads safe, with anticipated snowfall of 10-20 cm. The Town's Public Works crews are out, and the Town's Protective Services are monitoring conditions closely.
Making Sure Priority Routes are Safe Comes First
As soon as snowfall occurs, the Town begins preparations to sand, salt, plow streets and move snow from roadways and pathways.
The Town works with contractors to clear snow based on a priority system. This priority system ensures our highest traffic roadways are cleared first for the majority of traffic. These include
Major roads such as Macleod Trail, Center Street and High Country Drive.
School bus and emergency vehicle routes.
Busy intersections, hills and corners.
Contractors are in place to clear the downtown sidewalks, and some major roads.
During prolonged and heavy snowfall, priority routes may need ongoing attention to keep them safe. Public Works crews are working hard to clear every street in town as quickly and efficiently as possible for your safety. Please see below for guidelines on how to help the town efficiently clear snow.
Residents play a role during heavy snowfall events too:
Remember to be a Good Neighbour! To keep walkways safe residents are responsible for clearing snow and ice from sidewalks in front or your home within 24 hours of snowfall.
Snow and ice from private property must be contained on your own green space and not plowed onto the public roads. This helps ensure roads are clear from any excess snow and are safe to travel after the town has plowed the roads.
As roads are cleared, excess snow will be moved onto grass boulevards. Please DO NOT move this snow, it will be transported once crews are available.
If you know of anyone who needs help, High River has a Snow Angel Program and volunteers are appreciated!
Your Safety is Important. Tips for safety during winter storms:
Everyone is strongly encouraged to stay home and stay safe if possible.
Stay clear from storm ponds, and river, while they may look frozen ice maybe unsafe.
High visibility clothing and making sure kids are safe around roads and intersections is important!
If you are out, please adjust your driving conditions and consider reducing travel distance and speed and increase following distance.
Visibility will be poor at times and poor weather conditions will persist during this winter storm. Drive slowly, especially in school and playground zones and near crosswalks and intersections.
Links for information and to report incidents and to monitor road conditions:
Your cooperation, patience and understanding are appreciated. Remember, we live in Alberta where the weather changes quickly. Let's pull together and stay safe.
- 30 –
Town of High River
403-652-2110