Observance of Newly Added Tree and Bench Memorials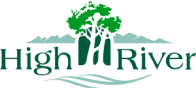 by Town of High River
27/09/2022
Community Parks & Recreation
HIGH RIVER -Amidst the many activities in town last week, one of a quieter nature took place last week in the peace and beauty of George Lane Memorial Park. Nearly 40 friends and family gathered on Wednesday September 21, 2022 to recognize new Tree and Bench tributes and milestones within the community. A total of 9 Memorial Benches and 16 trees have been added to the Town's Memorial Tree and Bench program in 2021 and 2022.
The memorial tree and bench program has been in place since 2010. It is a way some residents choose to honour a loved one or celebrate graduations, anniversaries, births or significant moments and milestones. The memorial trees and benches become a legacy in our parks or along the Happy Trails for generations to come.
This program has been in place since 2010 with a total of 120 trees and 48 memorial benches purchased by individuals to recognize the passing of an individual or to celebrate a special occasion. More information can be found on on the High River's Trees web page, including links to application forms.
- 30 -
For more information:
Email: parksandrec@highriver.ca
Phone: 403-652-4042