River Monitoring Stages Explained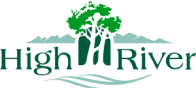 by Town of High River
11/05/2022
Community Council
HIGH RIVER, AB: Town of High River staff, in conjunction with the Province of Alberta, actively monitor the Highwood River levels and flows.
During peak hazard season in May and June, LED river monitoring signs are placed at high traffic areas in Town to ensure the community is informed.
Town staff monitor data specific to the Highwood River. Data including snowpack, snowmelt, stream flows and volume from key monitoring stations will be shared with the community every Friday on the Town's website and social media channels until end of June.
The four stages of river monitoring that are used Province-wide are:
Normal

Volume and flow rate of the water is within normal range for Spring run-off.

High Stream Flow Advisory

Stream levels are rising or expected to rise rapidly but no major flooding is expected. Minor flooding in low lying areas is possible.

Flood Watch

Stream levels are rising and will approach or may exceed the riverbanks. Flooding of areas adjacent to these streams may occur. While no action is required, it is always important to be prepared for an emergency.

Flood Warning

Rising stream levels will result in flooding of areas adjacent to the streams affected.
It's important to remember that the Highwood River runs through several jurisdictions and stream advisories may be issued by either the Province or other Municipalities. These advisories may not impact the Town of High River.
If there is a potential risk to the Town of High River, the Town's Emergency and Protective Services staff will issue information and alerts to residents.
In the case of an emergency, residents will receive automatic notifications from Alberta Emergency Alerts to wireless devices. Check the Town's river monitoring webpage for more information and updates.
- 30 -
For more information:
Communications
communications@highriver.ca